Katarina Johnson-Thompson: Injury 'hardened me to the world'
Last updated on .From the section Athletics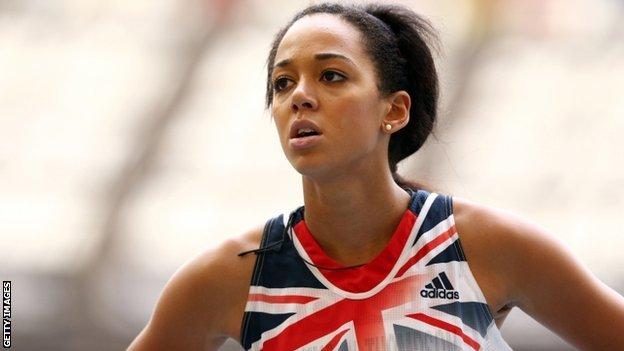 The lights were dimmed, candles lit. Serenity-restoring music in the background. A reclusive two days in a luxurious spa hotel for a girl wanting to ease the sorrow of a dream-crushing injury.
In a static caravan 400 miles north on the outskirts of Glasgow, during a gloomy August week, were her family. Cold showers, cramped conditions. Rain and wind swirling around them.
Flags and banners remained unwrapped, set aside for another time. Their enthusiasm killed before the Commonwealth Games began. Strangers would now battle for a prize destined for one of their own.
Katarina Johnson-Thompson has learned to be philosophical about the dreadful end to her summer, when a stress reaction in her left foot wrecked her bids for heptathlon gold in Glasgow and the European Championships.
But the 21-year-old is not yet ready to burst into song and go all Eric Idle on us. The search for life's brighter side has been a long process, her rehabilitation and return to the chirpy heptathlete of old gradual.
"All my family had tickets for the Commonwealths," she recalls. "Their accommodation had been booked and the travel had been sorted.
"They were in Glasgow and I was in this lovely spa. My uncle was the one who recommended me the hotel in London and he texted me while I was there, saying, 'I can't believe you're not competing and we're in this rotten place!'"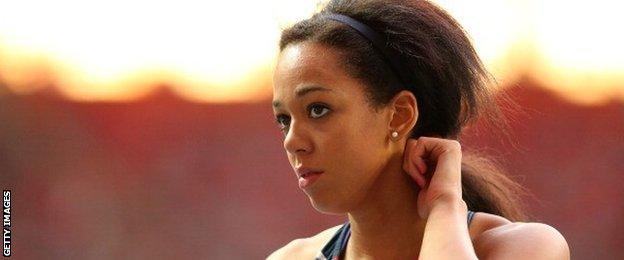 She giggles as she remembers the message, but then adds soberly: "It was really bad. It seems like yesterday still."
At that point, with her family at one end of the UK and Johnson-Thompson at the other, there was still hope of competing in the long jump at the European Championships.
But a few days before Zurich came the "double-whammy". After a year of personal bests in every heptathlon event except the 800m, Johnson-Thompson had another scan and was told the foot had not healed as quickly as expected. The risk of long-term damage remained.
It was then that the intensive rehabilitation - the oxygen chamber, ultrasounds, injections - stopped and reflection began.
"That's the one which got me the most, even though my whole season had been focused on the Commonwealth Games," she recalled.
"After the Commonwealths I was refocusing and refocusing, all for the Euros and then... I was hardened to the world after that: don't expect anything unless it's actually happening."
KJT on the big stage

2009

World Youth Championships -

heptathlon gold
2012

World Junior Championships -

long jump gold
2012

London Olympics -

heptathlon (15th)
2013

European under-23 championships -

heptathlon gold
2013

World Championships -

heptathlon (5th)
2014

World Indoor Championships -

long jump silver
In a dream start to the year the Briton won silver in the long jump at the World Indoor Championships in March before going on to set a string of personal bests, breaking British records and achieving a world-leading heptathlon score in the prestigious Hypo-Meeting at Gotzis in June.
A fortnight before the start of the Games in Glasgow, the British heptathlon junior record holder broke her long jump personal best by an incredible 11cm, leaping 6.92m at a Diamond League meeting at Hampden Park.
It was supposed to be merely the prelude, with Johnson-Thompson ready to announce herself to the wider sporting public at the same stadium two weeks later.
"It was all too good to be true," she says with a shrug. "I was in the shape of my life, but if you don't go through something like this, you don't realise how much you want it."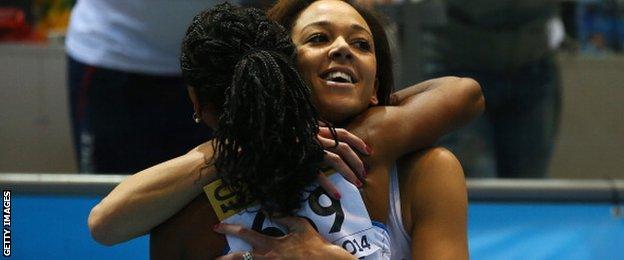 The flip side to missing out on medals, spending an imperfect summer in jeans and trainers because high heels and sandals were forbidden, is that during her time away from athletics, on those long walks with her dachshund Chorizo, one of Britain's most talented young athletes has learnt to appreciate her accomplishments.
"All those PBs I was getting, they were all sort of taken for granted," admits the British indoor high jump and long jump champion.
"I should have been happy about being number one in the world, but I was keeping it all contained because all I wanted to do was win gold in Glasgow."
She admits she considered competing at the Commonwealths in spite of the injury to her 'take-off' foot, sustained while training. "I had a stupid thought of 'if it cracks it cracks' because you never know what the future holds," she says.
KJT back on track
"I'm back running up hills, doing harness work. I don't know how I got out of bed this morning.
"I've been off for three months and didn't do that much 800m work before I got injured so it's been four months of not doing any puff work! My lungs have been really hurting, but I love that feeling of improving week by week.
"The World Championships will be my main priority next season. I'm so excited at the thought of competing in the Bird's Nest. Beijing 2008 was the first Olympics I remember, watching Usain Bolt run the 200m..."
But doctors warned of the long-term risks and, eventually, she thought better of jeopardising a future which is expected to hold Olympic and World Championship golds.
"I had been told it was my choice," she explains. "I thought that if it cracked some more then at least I tried.
"But I sat down with my coach and UK Athletics and they made me see the light. It's a horrible feeling, being in the best shape of your life and watching athletes doing what you can do."
Commonwealth gold went to Canadian Brianne Theisen-Eaton, who won with 6,597 points. Johnson-Thompson's personal best of 6,682 points, achieved earlier in the summer, would have been enough. Adding to her frustration, the Liverpool Harrier's best of 6.92m in the long jump would have comfortably secured her the European crown. France's Eloyse Lesueur claimed the title with a 6.85m leap.
Britain's all-time leading heptathletes
Jessica Ennis-Hill - 6,955 points (2012)
Denise Lewis - 6,831 points (2000)
Katarina Johnson-Thompson - 6,682 points (2014)
Judy Simpson - 6,623 points (1986)
An opportunity of a golden double may have gone, but the confidence boost of her early-season exploits bodes well for next year's World Championships in Beijing. A certain Jessica Ennis-Hill could be among her rivals, with the Olympic champion training again having given birth to her first child, Reggie.
"Welcome back, there's all the pressure," says Johnson-Thompson with a smile, referring to the increased attention she received this year. She may have been partly filling the void left by Ennis-Hill, but she was also being recognised for her incredible feats.
"It will be good for heptathlon to have the Olympic champion back. It will be a great year. There are a lot of girls around the 6,500-mark so it will be tough. It always is as it gets closer to an Olympic year, but I'm glad I'm in the mix.
"I can already feel myself putting a lot more into training than I used to at this time of year. I'm a few weeks into winter training and I'm still enjoying it.
"I just want to do the exact same thing I did last season, but not get injured. I wouldn't change anything. The injury was just unfortunate."