Jo Pavey targets fifth Olympic Games on the track
Last updated on .From the section Athletics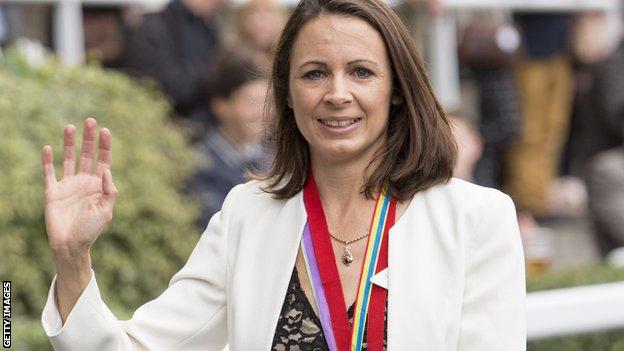 Britain's Jo Pavey has shelved thoughts of retirement and is aiming for a fifth Olympics when she will be nearly 43.
"I would just love to run in my fifth Olympics at Rio in 2016, and hopefully perform well," the mother-of-two said.
"I've definitely surprised myself. I didn't expect to win any medals - I was breastfeeding at the start of April."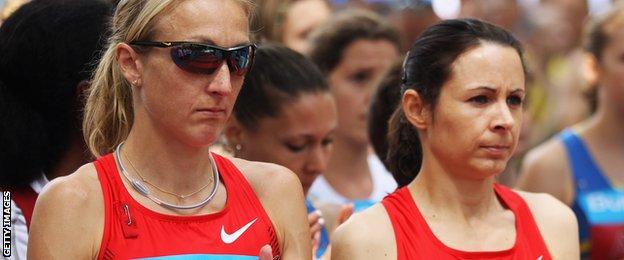 The Devon athlete, who turned 41 last month, told BBC Sport she plans to continue concentrating on the track events.
"People ask if I would like to do the marathon and I would like to run another one in the next couple of years but ideally I'd run on the track, if selected," she said.
"Next year I'd like to qualify for the World Championships in Beijing in the 5,000m or 10,000m, and my long-term thoughts are getting to Rio.
JO PAVEY CAREER FACTFILE
Major British debut:
1997 World Championships, Athens
Olympic Games:
Has run at Sydney 2000, Athens 2004, Beijing 2008 and London 2012. Best finish fifth in 5,000m at 2004 Games
Major medals:
Commonwealth Games: 5,000m silver in 2006; 5,000m bronze in 2014
European Championships: 10,000m silver in 2012; 10,000m gold in 2014
"To be honest, at the start of the season, I thought maybe I would be retired this year.
"I wondered if I might scrape into the team, and I'm really thrilled that I'm more competitive than I thought I'd be."
Pavey has raced at the 2000, 2004, 2008 and 2012 Olympics - with her best finish of fifth coming in the 5,000m in Athens 10 years ago.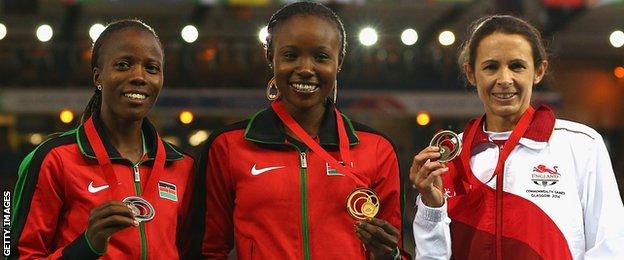 She attributes her new-found success to the demands of motherhood easing the pressure on the track.
"I'm too busy to worry about it. I've got a better work-life balance," said Pavey, who gave birth to her second child Emily last year.
"I got to the stage where I wasn't enjoying running, and I desperately wanted to be a mum.
JO PAVEY IN 2014
12 May:
Wins British Championships 10,000m - first victory since having her second child
2 August:
Claims bronze for England in the Commonwealth Games 5,000m in Glasgow
12 August:
Wins European 10,000m - at 40 the oldest woman to take gold in the event
"Now I don't dwell on things before or after. Being older helps with those years of experience. I'm enjoying myself, keeping busy and it's made me more competitive."
Pavey, whose husband Gavin is her manager and trainer, said she was pleased her daughter and five-year-old son Jacob had shared in her summer success.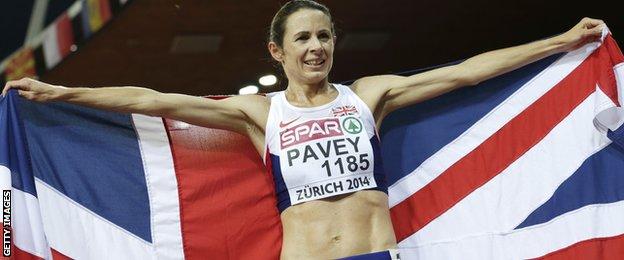 "They were both in the stadium in Zurich when I won my European gold medal, " she said.
"My little boy has watched me at the Olympics but my daughter hadn't seen me compete live."
She hopes there could still be more to celebrate at major championships in the future.
"I always go for a medal, but it's one step at the time," Pavey said.