Jo Pavey: European champion not surprised to miss out on funding
Last updated on .From the section Athletics
Jo Pavey says she is disappointed but not surprised to miss out on lottery funding, telling the BBC she is "probably too old" to receive it.
But she was a notable absentee when British Athletics announced its funding list on Monday.
"It's just another thing to overcome," the Englishwoman said.
"I'll be putting the same effort into my training and doing the best I can."
Speaking to BBC Breakfast's Sally Nugent, Pavey pointed out her 2014 successes were achieved without lottery funding.
And she revealed she had been unaware a British Athletics announcement had been due on Monday.
"It's not something that was really in my mind or on my radar," she said.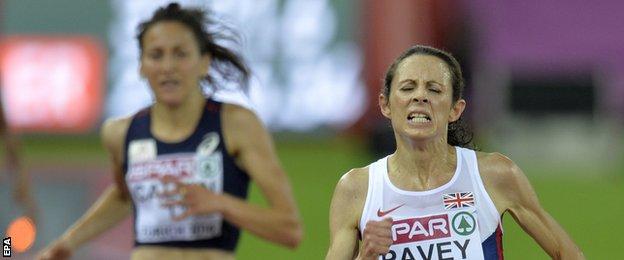 "Obviously I'm disappointed not to get funding but I'm not surprised. I've been in this situation before.
"It is difficult when you get older because you feel like you're putting in the performances but you're probably too old to get the funding."
British Athletics bases its funding on a person's potential to win medals at Olympic and Paralympic Games.
Pavey will be nearly 43 when the next Games take place in Rio in 2016 but the mother-of-two has said she is targeting a fifth Olympics appearance.
"It's helpful and it's nice that some athletes are supported but it's nothing that I'm really going to dwell on," she said.
"I certainly don't run because of the money. I do it because I love it and I do it because we get a lot of time together as a family."
Long jumper Chris Tomlinson, 33, and javelin thrower Goldie Sayers, 32, were also omitted from the funding programme.