Katie Kirk mulls over international switch from GB to Ireland
Last updated on .From the section Athletics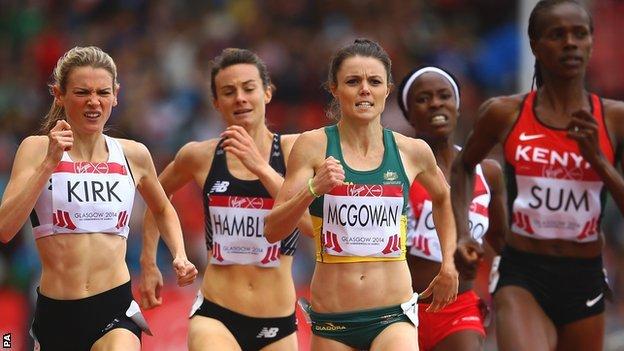 Commonwealth Games 800 metres semi-finalist Katie Kirk is mulling over a possible switch of international allegiance from Britain to Ireland.
Kirk has denied that she has already declared for Ireland but acknowledges that she is "considering" the option.
The athlete, who turned 21 on Wednesday, improved her 800m best to 2:02.63 when she narrowly missed out on a Commonwealths final spot.
Athletics Ireland have been informally approached about the issue.
However, no paperwork on the issue has yet been filled in and suggestions that it is already a done deal are premature at this stage.
There has also been no contact between Athletics Ireland and UK Athletics over any possible switch of international allegiance for the athlete.
However, it will not be a surprise if that athlete does elect to throw in her lot with Ireland.
Responding to Thursday's reports that she had already committed to running in the green Irish vest, Kirk tweeted: "Just to clarify considering and no documents signed yet."
Kirk's personal best set at the Commonwealths would have placed her third in this year's Irish 800m rankings behind Rose-Anne Galligan [2:02.07] and Laura Crowe [2:02.24].
And while she did run superbly in Glasgow as she narrowly missed out on a place in the final, her time set at Hampden Park was still only good enough to place her 13th in this year's British rankings.
However, Kirk, who won the Irish 800m title in July, has demonstrated impressive racing instincts over the past couple of seasons and Athletics Ireland would regard her capture as something of a coup.
The 21-year-old has made a smooth transition from 400m to 800m over the last 18 months and will be expected to improve Amanda Crowe's 16-year-old Northern Ireland record of 2:01.83 in 2015 if she maintains her current rate of progress.
Kirk last competed in a British vest at the 2011 European Junior Championships in Estonia so would be able to represent Ireland immediately once the paperwork formalities have been completed.
The Holywood woman came to worldwide prominence in July 2012 when she was one of eight young UK athletes who had the honour of lighting the Olympic cauldron at the opening ceremony for the London Games.