Valerie Adams: Olympic champion calls for life bans for drug cheats
Last updated on .From the section Athletics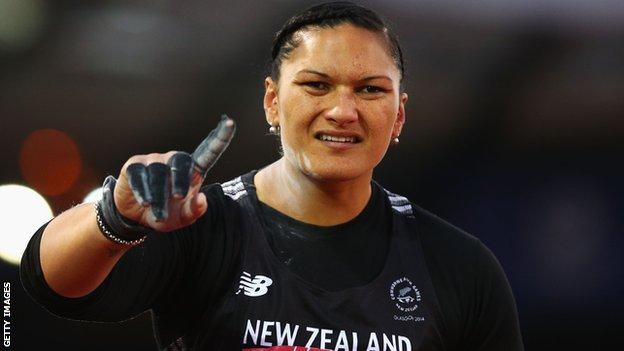 World and Olympic shot put champion Valerie Adams says that athletes who test positive for performance-enhancing drugs should be banned for life, even if it is their first offence.
"Once a cheater always a cheater - you should be banned for life," said the 30-year-old New Zealander.
"Kick them all out, none of this back after two years stuff."
A serious first doping violation leads to a two-year ban, but the punishment will increase to four years in 2015.
However, recent research on mice suggests that athletes continue to benefit from having taken steroids long after their suspensions have been served.
Adams was speaking in Monaco as one of the three nominees for the International Association of Athletics Federations (IAAF) women's athlete of the year award.
United States sprinter Justin Gatlin, who failed drugs test in 2001 and 2006 but has returned to run the fastest 100m and 200m times of 2014 so far, was included on a 10-name long-list for the men's award.
His inclusion prompted another of the long-listed athletes - German discus thrower Robert Harting - to remove himself from consideration for the award.
"It was quite a massive stance he took," added Adams.
"I support him. It was pretty strong of him to do that."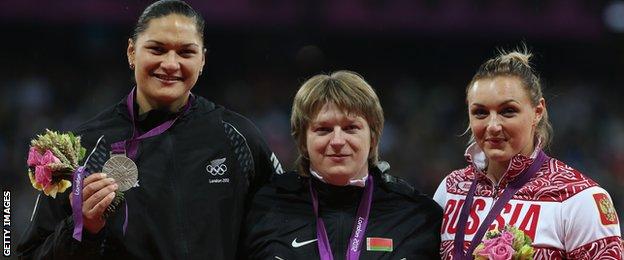 Adams was only awarded gold at London 2012 after Belarussian rival Nadzeya Ostapchuk was stripped of the title for taking the steroid metenolene.
At the 2004 Olympic Games in Athens, Adams was denied the three extra throws given to the top eight in the field when she finished ninth, only to be retrospectively moved up a place after winner Irina Korzhanenko was found to have cheated.
"It totally sucked, but I have moved on," said Adams of having not received her London gold at the Olympic Stadium.
"I am probably one of the lucky ones in that they caught her several days later and not two years or eight years later like a lot of other cases."
After Harting's protest, Gatlin failed to make the IAAF's shortlist for Friday's award.
The honour will go to either Qatari high-jumper Mutaz Essa Barshim, Kenyan marathon world record holder Dennis Kimetto or French pole vault world record-holder Renaud Lavillenie.