Mark English Irish athlete of 2014 after winning European bronze
Last updated on .From the section Athletics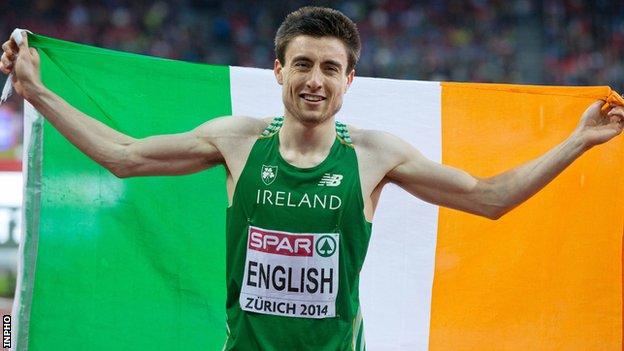 Letterkenny athlete Mark English has been named Athletics Ireland's athlete of the year following his bronze medal achievement at the European Championships in Zurich in August.
English was the first Irish male to win a European outdoor medal in 16 years.
Ballymena & Antrim's Christine McMahon was named emerging athlete of 2014 after qualifying for the 400m hurdles semi-finals in Zurich.
The awards were presented at a ceremony in Dublin on Wednesday.
Roisin McGettigan was presented with a retrospective bronze medal from the 2009 European Indoor Championships.
Wicklow woman McGettigan finished fourth in the 1500m final at the Paris championships but gold medallist Anna Alminova later had her medal taken off her because of irregularities in her biological passport.
McGettigan, now 34, reached the Olympic 3,000m steeplechase final in 2008 when she finished 14th and took 10th in the same event at the 2007 World Championships.
English's overall award added to his track and field athlete of the year honour while he was also part of the team award, given to Ireland's 4x400m squad which broke the national record at the European Championships.
"To mention me alongside Eamonn Coghlan and Ronnie Delaney is a real honour," said English after the awards ceremony.
"I don't want to look ahead to Rio and say that's where I'm going. I'm going to focus on getting the European Indoors and take it one step at a time," Added English
English revealed that he is now being coached by Sonia O'Sullivan's husband Australian Nic Bideau having coached himself to bronze in Zurich.
Ballymena and Antrim hurdler McMahon picked up the emerging athlete award for her breakthrough performance at Zurich 2014 when she powered into the semi-finals.
"Unfortunately Glasgow [the Commonwealth Games] didn't go as planned but I made up for that in Zurich," said the Ulsterwoman.
1969 European 1500 metre silver medallist Frank Murphy entered the Hall of Fame, joining Eamonn Coghlan, John Treacy and Ronnie Delaney.
Awards
Junior Athlete: Karl Griffin
Emerging Athlete: Christine McMahon
Endurance Athlete: Fionnuala Britton
Track and Field Athlete: Mark English
Athlete of the Year: Mark English
Hall of Fame: Frank Murphy
Team Performance: Irish men's 4x400m
Inspirational Performance: Thomas Barr
Mountain Runner: Sarah McCormack
Master Athlete: Brian Lynch
Ultra Runner: John O'Regan
Male University Athlete: John Travers
Female University Athlete: Maria O'Sullivan
Lifetime Achievement: Phil Conway
Outstanding Coach: Michael Lane
Development Club: Dunboyne AC
Club: Leevale AC