Russia doping allegations: Federation threaten legal action
Last updated on .From the section Athletics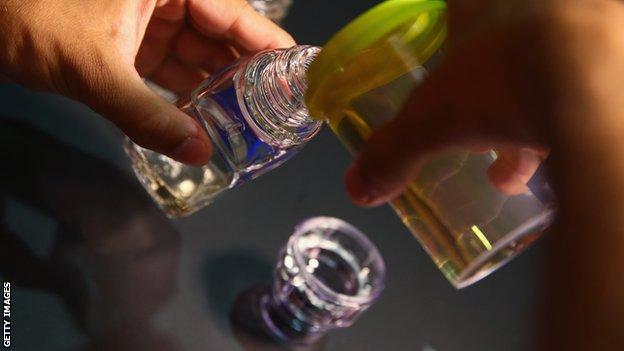 The Russian Athletics Federation has threatened legal action following allegations by a German television documentary that doping and corruption were rife within the country's sport.
The organisation has already rejected the claims as "lies".
"The federation believe the documentary was a provocation aimed at discrediting Russian sport," said RAF president Valentin Balakhnichev on Friday.
"We are looking at all our options to defend our rights."
Balakhnichev continued: "If it is possible under Russian and German law, we will take the appropriate legal action for the slanderous allegations made against us,"
The hour-long programme, which was shown by Das Erste on Wednesday, featured an undercover video of what it said were Russian athletes and coaches admitting to covering up positive tests.
Athletes tweet reaction to doping claims:
Women's marathon world record-holder and former world marathon champion Paula Radcliffe:
"Sick to my stomach. Some of the allegations coming out of this are every sport's worst nightmare."
Four-time Olympic rowing gold medallist Sir Matthew Pinsent:
"This is grim reading for Olympic sports fans - it casts a pall over every Russia performance for an Olympiad."
German pole vaulter and reigning world champion Raphael Holzdeppe:
"Yesterday's documentary was shocking. We can only continue to set a good example and keep pursuing clean sport."
Former discus thrower Yevgeniya Pecherina claimed that "most, the majority, 99%" of athletes selected to represent Russia use banned substances.
It also implicates the International Association of Athletics Federations (IAAF) in covering up the abuse.
"One hears claims by five people whose statements are hardly credible," added Balakhnichev.
"Each of them had been exposed as a doping abuser and has personal reasons to have a dislike towards our athletes, coaches, athletes from other federations and the Russian anti-doping agency RUSADA.
"The Russian Athletics Federation is committed to its fight against doping in sport and we will continue this process."
The IAAF said it had "noted a number of grave allegations" and revealed that an investigation into some of the claims is "already ongoing".
And the Russian Anti-Doping Agency (Rusada) has announced it is to open its own investigation and will publish its findings on its official site.