Russia doping claims: Paula Radcliffe wants Olympics bans
Last updated on .From the section Athletics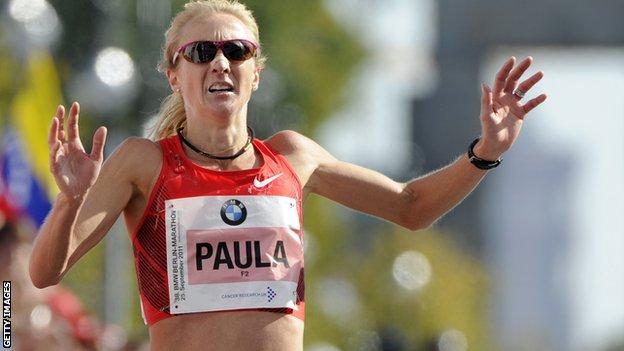 British marathon runner Paula Radcliffe has called for countries to be banned from Olympic Games if found guilty of repeatedly breaking doping rules.
The Russian Athletics Federation has threatened legal action over "slanderous allegations" including bribes to cover up positive tests.
Radcliffe told BBC Sport she would like to see "sanctions" for federations.
The 40-year-old women's marathon world record holder said that when a federation surpasses a certain number of positive cases among its athletes, it should be punished.
"I'd also look at the independent testing bodies," Radcliffe told BBC Radio 5 live's Sportsweek. "Maybe they need to be taken away from the countries if they can't be trusted.
"I think there should be sanctions for that country competing in events like the World Championships, like the Olympic Games.
"It shouldn't just be Russia that's singled out here, but any country that isn't abiding by the Wada or IAAF codes of practice and anti-doping rules and implementing sanctions and testing like they should."
The claims have been rejected as "a pack of lies" by Valentin Balakhnichev, president of RAF, who said in a statement on Friday that the documentary was "a planned attempt to create an ugly scandal within Russian athletics and Russian sport in general".
However, both the International Association of Athletics Federations (IAAF) and the World Anti-Doping Agency (Wada) have said they will look into the claims.
The IAAF said it had "noted a number of grave allegations" and revealed that an investigation into some of the claims is "already ongoing".
Wada president Sir Craig Reedie, also talking to Sportsweek, said the claims had been "pretty dispiriting" for the anti-doping community.
"There have been a number of cases where athletes in Russia have tested positive and have been sanctioned," said Reedie. "So clearly there has been an issue in that country. Perhaps it's good news that people are being caught and are big sanctioned."