Dick Pound heads panel to investigate German TV allegations
Last updated on .From the section Athletics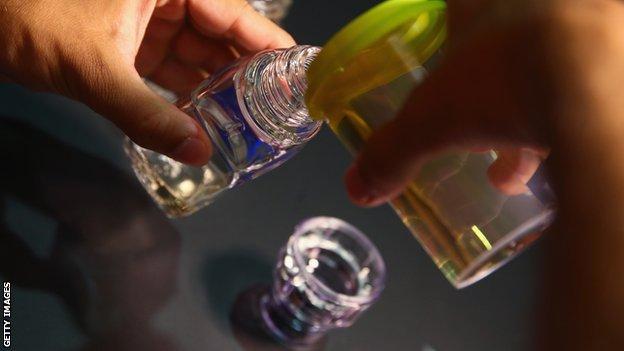 The former head of the World Anti-Doping Agency, Dick Pound, is to chair a panel to investigate allegations made in a series of German TV documentaries.
Broadcaster ARD alleges an unnamed member of athletics' governing body, the IAAF, had a list of 150 suspicious blood samples that were not looked at.
It is alleged many came from Russia but it was also claimed a top British athlete escaped investigation.
The Russian Athletics Federation wants to see the unedited TV material.
Wada says the independent commission panel will begin work on 1 January 2015.
Pound will be joined on the three-person commission by Professor Richard McLaren, an experienced legal counsel who has experience in the world of international sports law and is a member of the Court of Arbitration for Sport (Cas).
Wada says a third member of the commission will be named "in due course".
Wada president Sir Craig Reedie
"The Independent Commission has the vital task of reviewing the allegations aired during the documentaries, as well as all other information received separately by Wada, to determine if there have been any violations to anti-doping rules.
Once the investigation is concluded, if it is found that there have been violations or breaches of the rules, Wada will ensure that any individuals or organizations concerned are dealt with in an appropriate fashion under the World Anti-Doping Code."
German broadcaster ARD reported claims from an anonymous member of the IAAF's medical commission that there was no targeted testing of athletes who had returned abnormal blood samples between 2006 and 2008.
Other unnamed athletes, from Kenya, Germany, Spain and Morocco are also implicated in the allegations.
The Russian Athletics Federation (VFLA) has threatened legal action against ARD, rejecting its allegations as "lies".
On Tuesday, lawyer Artem Patsev told Russian news agency R-Sport: "The federation has demanded an unedited version of [German journalist Hajo] Seppelt's material to find out what exactly those who took part in the documentary actually said.
"The president of the VFLA, Valentin Balakhnichev gave an official request for the material and asked that copies were also sent to the World Anti-Doping Agency and the International Association of Athletics Federations."