Darren Campbell would not encourage children into athletics
Last updated on .From the section Athletics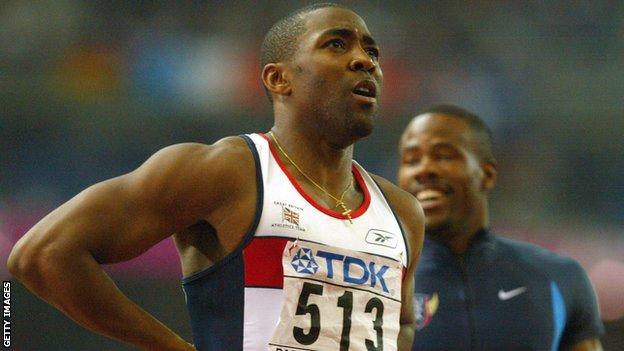 Darren Campbell says he would not encourage his three children to follow him into athletics as doping claims have made him lose faith in the sport.
"I wouldn't encourage my kids to do athletics," the former sprinter said.
"Every time there's an allegation of systematic doping, it is very difficult to keep believing in the sport."
The interview was part of the 5 live Sport special - Can we believe in athletics anymore? You can download it
here.
The World Anti-Doping Agency has launched an investigation into allegations broadcast by German television station Das Erste, including a claim that doping and corruption was rife among Russian athletes.
The Russian Athletics Federation has denied the claims, dismissing them as "lies" and threatening legal action.
It follows a spate of positive tests in Jamaica and Kenya in recent years.
Darren Campbell

Born:

12 September 1973

Major titles:

1998 Europeans (100m, 4x100m), 1998 Commonwealths (4x100m), 2002 Commonwealths (4x100m), 2004 Olympics (4x100m)

Personal bests:

100m: 10.04 seconds, 200m: 20.13 seconds
World and Olympic medal winner Campbell said that the documentary had brought to the surface rumours he had heard during his own career.
"At that highest level, do we believe that the athletes are doing what they are doing clean?" he asked.
"It takes me back to the rumours that I heard when I was 17 or 18, that certain athletes were protected."
Double Olympic 1500m champion Seb Coe, who is running for the presidency of the IAAF next year, said that it is paramount that athletics restores the faith of both fans and fair competitors.
"It is a war we can't lose and it is a war we aren't losing," he said.
"The latest Wada list shows track and field is in the lead of testing. Some sports are doing a 10th of what we do.
"The one thing I am convinced about is that we need to have internationally an independent system that removes the pressure and the cost from individual federations."