Maggie Alphonsi: Rugby World Cup winner aims for Olympics
By Richard Winton
BBC Sport
Last updated on .From the section Athletics
Rugby World Cup winner Maggie Alphonsi will attempt to lead Saracens to their league title next Sunday before turning her attention to the Olympic Games.
The 31-year-old flanker will captain her side in the final game of the season against Wasps knowing that victory will secure the Women's Premiership.
She also knows that it will likely be her final game of rugby as she turns her focus to throwing. Specifically shot put.
"I'm at the bottom again and I have to go through all the mistakes to get better," Alphonsi told BBC Sport.
"But that's what I love about sport - that idea of having something to work towards."
Twice a week she can be found at Lee Valley Athletics Centre, training with a view to earning a place in Team GB for the Rio games in 2016.
It's a long way from an 11-year international rugby career that ended in the immediate aftermath of England's 21-9 triumph against Canada in August but the goal, while ambitious, is not unrealistic.
Indeed, coach Tracey Quarty has seen enough to insist the Londoner can become the best in Britain, even if the pair have resolved not to measure the distances of her throws at this stage.
Instead, their belief is founded in the potential Alphonsi has already demonstrated.
No stranger to throws, having represented Enfield and Haringey in discus at the age of 12, she might have worn an England vest at school level had rugby not taken over.
Now, her powerful 5ft 4in frame is more suited to the shot, although the hammer is another discipline that may be explored in the coming months.
"It has been a little bit overwhelming because I was in rugby for 17 years - I had a reputation, I was comfortable doing it and I was at the top of my game," she explains.
Having decided before the World Cup to stand down from international rugby, Alphonsi was keen to stay in elite sport.
And, with many throwers not peaking until their thirties, rekindling the relationship with her first sporting love was an obvious avenue.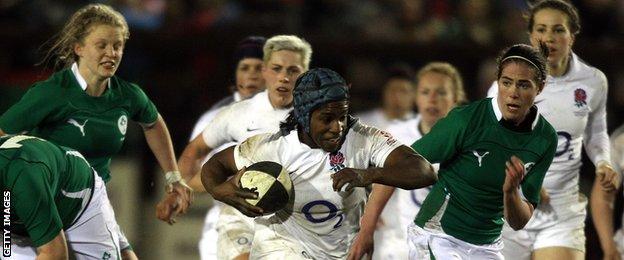 "By the time you get to 31 in rugby, your body can start to struggle because of all the hits you take. With me, it's my knees," she says. "But I'm coming into throwing at the right time.
"In fact, I've almost got a head start because I've got decent fitness and I know how to be an athlete - I just need to hone my technique."
To do that, Alphonsi appreciates that another love affair will have to come to an end.
"Rugby keeps a smile on my face but, in reality, I can't continue to do both if I want to compete at Olympic level," she says.
"My plan was to get through this season and then focus on throwing and, if we win the league, I can end on a high."