Jamie Bowie looks to step-up from relay to individual 400m
By Jane Lewis
BBC Scotland
Last updated on .From the section Athletics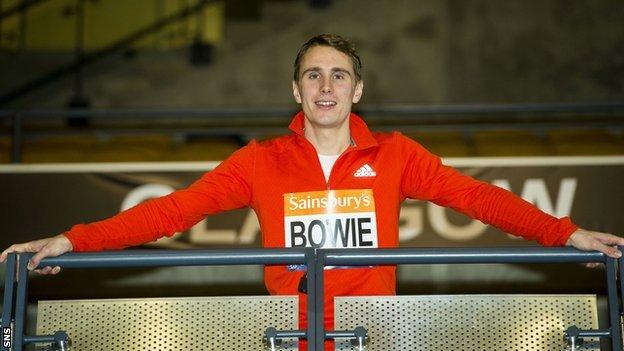 Scottish athlete Jamie Bowie says his aim over the next couple of years is to break through as an individual 400m runner.
Bowie was part of the Great Britain 4x400m team who won silver at the World Indoor Championships last year but is now looking for personal success.
"I was disappointed not to make that step up last year - it would've been a fantastic time to do it," he said.
"My focus going forward is individual 400m as well as the relay."
Bowie was part of the Scottish relay team that finished fifth at the Commonwealth Games in Glasgow, setting a new national record in the process.
"The relays are a really great way for athletes to develop and really get a taste for international athletics and competing on that stage," he told BBC Scotland.
Bowie will be part of the Scotland team that will line-up against France, Germany and a GB team in the Glasgow International Match at the Emirates Arena on 24 January.

"It'll be a real test for me and I'm looking forward to it," he said.
"Last year, I ran a personal best and finished third, so I was really happy with that performance.
"It's the real stepping stone for the indoor season.
"It's the one real chance in the year for a high-profile event in athletics to come to Scotland."
Bowie will be pitted against the athletes he normally competes alongside in GB colours.
"Last year was really weird," he admitted. "The men's 4x4 GB team were in the Bahamas trying to go for a world record and it was with my colleagues that I stepped up with the next month at the World Indoors to win a medal, so it was a really weird atmosphere and it was the same at the Commonwealth Games.
"You see your colleagues there and you're no longer team-mates, you're no longer relay mates, you're competitors, but within the 400m we've got a good banter and everyone enjoys being competitive."