Great Britain's Lee Merrien to miss 2015 London Marathon
Last updated on .From the section Athletics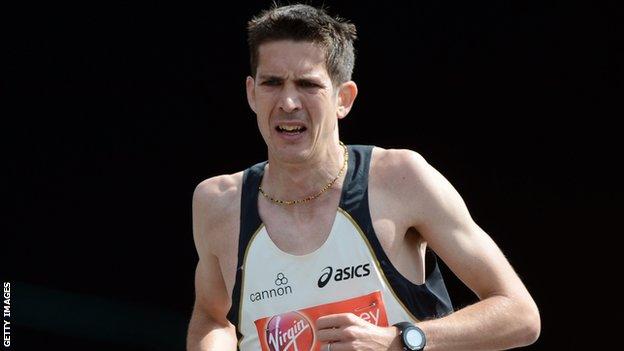 Great Britain runner Lee Merrien will miss the 2015 London Marathon.
The 35-year-old from Guernsey was the fastest British finisher when he last raced the event in 2012, leading him to
Merrien has recovered from a stress fracture in his back which
"The marathon will come later, there more than certainly won't be one this spring, but maybe one in the autumn," Merrien told BBC Radio Guernsey.
The 2015 London Marathon is on Sunday, 26 April and Merrien began his comeback on Sunday when he won a Met League cross-country race in London, eight months since he first injured his back.
"I'm already building my fitness on what I've got now and I know I've got a better starting point than what I gave myself credit for," added Merrien.
"But there's no marathon in the immediate term, I've just got back into training so I wanted to get my body strong and not put it through the wringer again in terms of what you do in marathon training.
"Invariably, it's long and fast stuff relevant to the event, so it can be quite stressful on the body and I just wanted to get back racing and put streams of races back to back, which you don't tend to do in marathon training - you tend to race infrequently."