Paula Radcliffe: I can't compete with elite now
Last updated on .From the section Athletics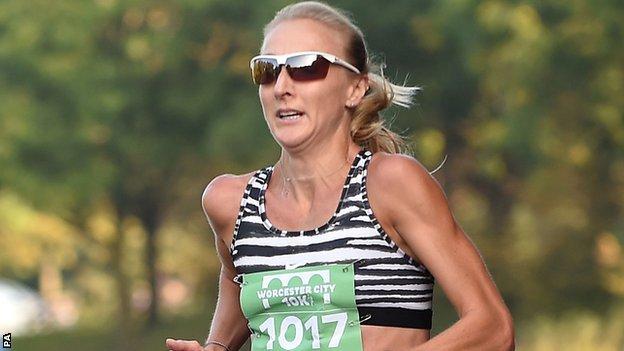 Britain's Paula Radcliffe has admitted that she will not be able to compete with the best athletes again.
"Time passes, I'm not competitive anymore," she told BBC Sport.
"I'm always going to be a runner. I'm always going to want to get out and run. I can't compete at the same level as I could a few years ago."
Former world champion Radcliffe has not been named among the elite athlete entries for the London Marathon, which will be broadcast live on the BBC on 26 April.
"Your body ages, but your mind and spirit will always be the same as it was when I was a little girl," she added. "That competitive instinct will always be there.
"Running has given me so much, enriched my life and made me a more confident, stronger person and I'd like to introduce other people to that."
Radcliffe, a Commonwealth 5,000m gold medallist, European 10,000m champion and marathon gold medallist at the 2005 World Championships, won the London Marathon in 2002, 2003 - in a world record time of two hours, 15 minutes, 25 seconds - and 2005.
She was hoping to win her first Olympic medal at London 2012 but was ruled out of the event because of a foot injury.
Radcliffe returned to action at the Worcester City 10k in September 2014 and finished third.
Paula Radcliffe is searching for six women to mentor for the Great Manchester Run so if you think you've got what it takes to be one of 'Radcliffe's Great Runners' visit www.greatrun.org/Manchester. If you'd like information on how to get involved in athletics, visit BBC Sport's Get Inspired - http://www.bbc.co.uk/sport/0/athletics/