Olive Loughnane not surprised by Russia doping bans
Last updated on .From the section Athletics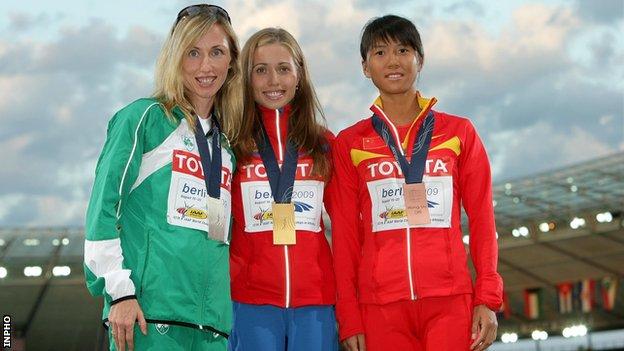 Olive Loughnane says it came as no surprise that five Russian walkers have been handed backdated doping bans.
Kaniskina could be stripped of her 2009 and 2011 world titles, resulting in Loughnane being awarded a gold medal.
Loughnane said: "I wasn't surprised when the announcement was made - I always thought that it would come out."
Those banned also include 2012 Olympic 50km winner Sergey Kirdyapkin, though reports suggest he will keep that gold, when Ireland's Robert Heffernan was fourth.
Last month, 2013 world 50km champion Heffernan was retrospectively presented with a European bronze medal from 2010 after Russia's Stanislav Emelyanov was stripped of the title.
In the case of Kirdyapkin, his ban is written to allow his results from 12 June 2012 to 14 October 2012 to stand, in between periods in which his other results have been annulled.
And as it stands, Kirdyapkin will be eligible to defend his Olympic title in Rio.
Bans of three years and two months were handed by the Russian Anti-Doping Agency to Kirdyapkin, Kaniskina and 2011 world champion Sergei Bakulin with all three cases backdated to late 2012.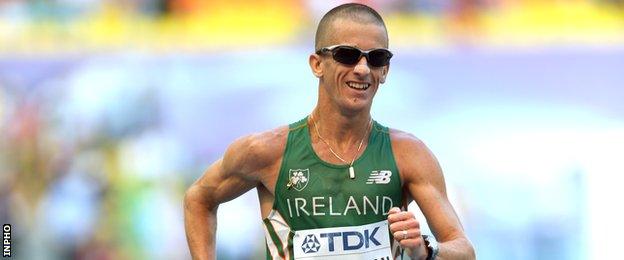 Valery Borchin, an Olympic gold medallist in 2008, was banned for eight years from October 2008 for a second doping offense, while Vladimir Kanaykin was banned for life for a repeat offence.
Tuesday's reports from Russia suggested the bans do not affect any Olympic medals although five world championship gold medals and a silver medal from 2009 and 2011 may be re-awarded.
The five athletes had all been suspended since late 2012 but this had not been made public by the IAAF until this week.
Cork-born Loughnane, 38, retired from competition in early 2013 and her 2009 world silver was the highlight of a walking career which included four Olympic Games appearances.
"There was always going to be suspicions," she added.
"I used it as source of motivation. In the 2008 Olympics I was being hunted down by someone who subsequently tested positive and for whom I had strong suspicions.
"I used it as motivation and I said 'There's no way she's going to go past me'.
"In 2012 I began to feel a bit negatively towards it after the Olympics, I felt things had got out of control.
"I was grateful to have my medal in 2009 because I felt the situation had run away from the anti-doping authorities and that the results in London were quite incredible, and subsequently two have tested positive... the number one and number two from London."