Paula Radcliffe: Sport has not learned about periods
Last updated on .From the section Athletics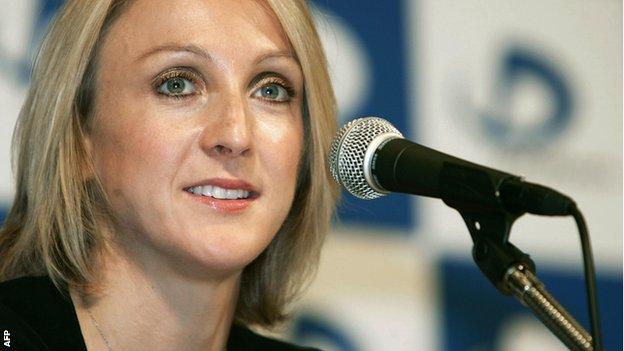 Sport has not learned how to deal with elite athletes' periods, marathon world record holder Paula Radcliffe has said.
Radcliffe said she intervened after British Athletics medics gave Jessica Judd norethisterone to delay her period at the 2013 World Championships.
A tearful Judd lost in the 800m heats and Radcliffe said: "It wasn't the first time they'd given it to an athlete and it hadn't helped."
British Athletics said it had recently introduced a number of initiatives.
"I would argue it's a lack of learning," Radcliffe told BBC Sport. "Too often in sport, doctors are men and they don't understand."
British Athletics said it could not comment on individual cases but added it was "very much aware of the added challenges concerning menstrual issues around performance athletes".
It added its science and medical team had recently worked on providing better support for female athletes.
Radcliffe, who will retire after this year's London Marathon, was commenting after former British women's tennis number one Annabel Croft described women's periods as the "last taboo" in sport.
On Tuesday, Heather Watson complained of "girl things" as she went out of the Australian Open while feeling unwell.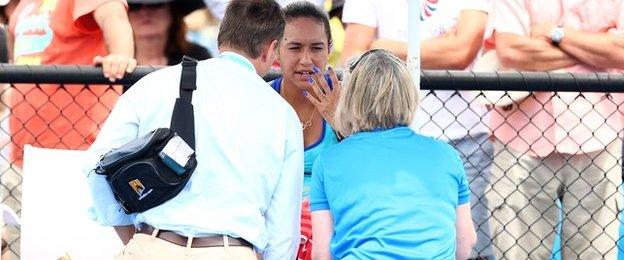 Radcliffe called for more studies to be done on the impact of the menstrual cycle on female performance - drawing on the experience of elite athletes such as herself and Jo Pavey who have "tried to do things to control their period" throughout their careers.
The 41-year-old revealed she first broke the record in Chicago in 2002 while suffering period cramps in the last third of the race.
"Sometimes maybe people didn't believe - you need more women who understand to give more evidence.
"I knew from experience that this norethisterone drug made things a hundred times worse. Jo Pavey knew that, others knew that, but it seemed that nobody within British Athletics had written that down, in terms of 'we won't give that to other young athletes'. They were still trying it, that's what frustrated me.
"They tried it because that's what medical science was saying you should do in that situation, but they knew that it hadn't worked because athletes had told them 'I feel worse'. Yet Jess was still given it.
"After that I did intervene and told them not to give this to other young athletes and I advised Jess then on what I used to do."
Speaking to BBC Radio 5 live, Judd - who was 18 at the time - recalled the incident: "Leading into it, I was on noresthisterone which was delaying my period from starting.
"I had spoken to Paula Radcliffe about it and we were really trying to find ways to go around it. I sat down with British Athletics doctors and they found this drug called noresthisterone.
"I took that and I think it played with my hormones more. I had to risk taking that. I thought whatever happens it's going to be better than being on my period. But it still affected me, I still felt heavy legged. Especially after the race I was very emotional. I definitely wasn't myself that day."
But Judd, 20, who says the effects of her menstrual cycle can be "the difference between finishing first and last" said she was "comfortable" with the decision to take noresthisterone and that it was the "best option at the time".
"I knew I just didn't want to be racing on my period. There was so much to risk. I had to do just everything I possibly can to get through.
"If I didn't take it, it could have gone a lot worse.
"It was a horrible situation which taught me a lot. The whole of 2014 I was on the pill."
British Athletics said in its statement: "Each case is looked at individually and it is the aim that any particular strategy is trialled well in advance of competition.
"In the last year alone specific initiatives have been put in place by the science and medicine team including screening athletes for menstrual issues, providing an education seminar on medical, nutritional and self-help strategies and also ensuring athletes have had access to individual consultations with an expert in this field; all with a view to providing enhanced support.
"As with all medical and performance issues; we are constantly reviewing our approach with a view to improving our advice and management options."