Alistair Brownlee: Failed drugs tests show perils of supplements
Last updated on .From the section Athletics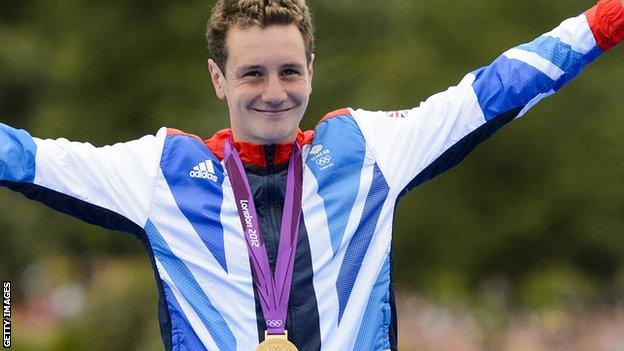 Olympic triathlon champion Alistair Brownlee says Gareth Warburton and Rhys Williams' failed drugs tests highlight the ease with which elite athletes can fall foul of contaminated supplements.
"If a sport supplement has been checked out, and there is a label on it to say there isn't contamination, and then there is a problem, then it's not his fault at all," Brownlee, 26, said.
"It's a really, really difficult one because you have to be responsible for everything you put into your body but actually in life you just can't.
"Where do you stop? Can you not go to a friend's for dinner or go out for dinner in fear of some sort of contamination?
"You can't only eat energy bars that come from a certified source. You can't live your life like that. It's wrong to live your life like that."
Warburton and Williams were found "at fault or negligent" but had not knowingly taken anything containing the prohibited substances, said an official national anti-doping report published on Monday.
Both athletes have urged other athletes not to take sporting supplements, and Brownlee, who won gold at London 2012 and Glasgow 2014, feels it is important to take extra care.
"What you can do is be careful on the high-risk things," he added.
"For example, if I know that an energy supplement is made in the same factory as a cough medicine, I know the potential for contamination is much, much higher. You have to be more careful about those and use the ones that are batch-tested."