Injured Ciara Mageean out of European Indoor Championships
Last updated on .From the section Athletics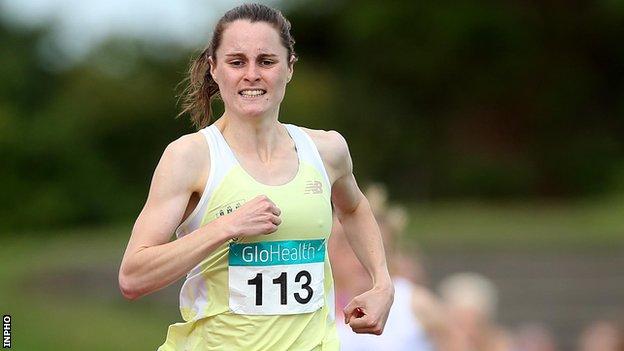 Ciara Mageean has been ruled out of the European Indoor Championships because of a foot injury.
Mageean had attained the qualifying standard for the 3000m for the 6-8 March championships in Prague.
The 23-year-old had been due to run the 1500m at the Irish Indoors on Saturday but withdrew.
It was revealed that Mageean was suffering from plantar fasciitis, which causes pain under the heel, and was advised against competing.
She suffered the injury at the Millrose Games in New York earlier this month.
Mageean was a surprise no show at the national indoor championships and Athletics Ireland said she had withdrawn from the 1500m heats due to a niggle.
Her coach former Irish Olympian Jerry Kiernan later said that Mageean was out of both the national championships and the European indoors.
"Ciara brusied the plantar of her foot at the Millrose Games and is suffering from plantar fasciitis," explained Kiernan.
"We have taken a decision that Ciara isn't to compete until the injury is fully healed."
Mageean missed all of the 2013 season and much of 2014 because of a ankle injury which had troubled her during 2012.
She made a dramatic return to win the Irish 1500m title in July last year and would have had ambitions of challenging for a medal in the 3000m in Prague.
"Ciara is jogging and doing recovery training in a pool," added Kiernan.
"We consulted with the Institute of Sport in Dublin, and it was felt Ciara would do serious damage if she raced with her injury."