Andrew Butchart and Maddie Murray win Scottish XC titles
Last updated on .From the section Athletics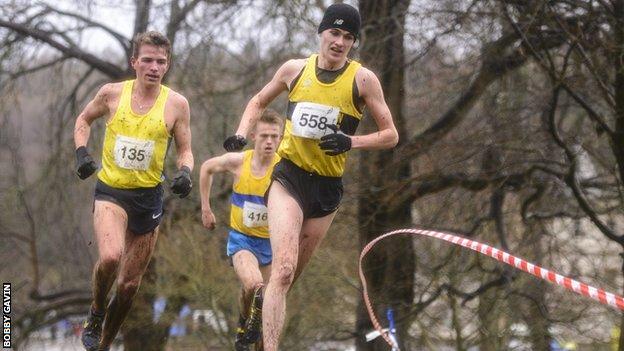 Andrew Butchart of Central AC and Edinburgh AC's Maddie Murray won the senior titles at the Scottish National Cross Country Championships in Falkirk.
Over 12km, Butchart finished 18 seconds ahead of Great Britain team-mate Callum Hawkins to cross the line in 38 minutes and six seconds.
Murray, like Butchart winning the title for the first time, sprinted beyond Rosie Smith of Hunters Bog Trotters for a time of 28 mins 54 secs for 8km.
Jonny Glen won the men's Under-20 race.
And the women's Under-20 event at Callendar Park was won by Kathryn Gillespie, a club-mate of Butchart's.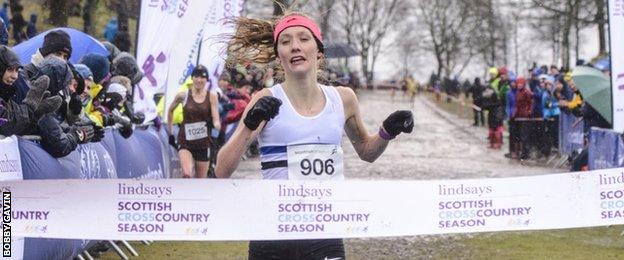 Butchart, coached by Derek Easton, will head to the Inter-Counties in Birmingham on 7 March with the British Challenge series up for grabs.
"There wasn't a big game-plan," said Butchart, who took the silver to Hawkins back in 2014.
"I'm delighted to win it, obviously. Every time I race against Callum I enjoy it. It is good to get on the start-line with him and we've have some good races this winter. I am guessing we will do it all again in Birmingham.
"I do feel I am showing improvement. Derek Easton is a great coach - the best in Scotland, I feel, for endurance - and I've stepped it up this year. It is a great squad and Derek knows how to get the best out of people.
Luke Traynor of Giffnock North took the bronze behind the pair.
Easton told Scottish Athletics: "There's been improvement with Andrew and he is quite new to a high volume of training. But you can see him getting stronger and stronger.
"It is quite exciting to think how good he might yet be. Fingers crossed now he can go to Birmingham and have a really good run in the British XC Challenge final."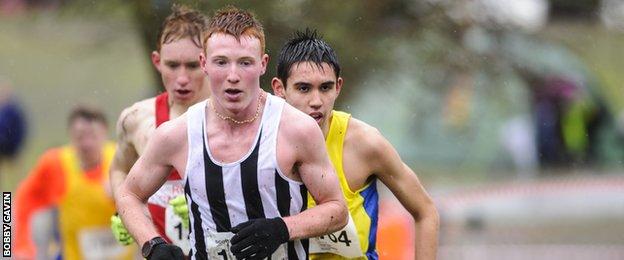 Murray is an Australian who has been living in Scotland for six years and is studying podiatry in Edinburgh.
She finished four seconds ahead of Smith, who has won two silvers and two bronzes in recent years. Central AC's Morag MacLarty was third in 29 mins 19 secs.
"It was great to win today," said Murray. "There was a good field there so it feels brilliant to have won the gold.
"I didn't come here today with huge expectations. I wanted to have a good race but then on the final straight I thought I had a chance in a sprint. It is a great event and I thought the atmosphere on the course was amazing."
Under-20 winners Glen of Inverclyde AC and Gillespie will be among a strong Scottish contingent heading to Birmingham for the Inter-Counties.
Glen, 18, who won in 25 mins 47 secs over 8km, balances training with an apprenticeship to become an electrician.
"I am so determined, I train my heart out," said the Greenock athlete.
"I would love to make a life out of this. It is hard to get to the elite level but I will give it everything."