Mo Farah-Andy Vernon rivalry good for athletics - Lynn Davies
Last updated on .From the section Athletics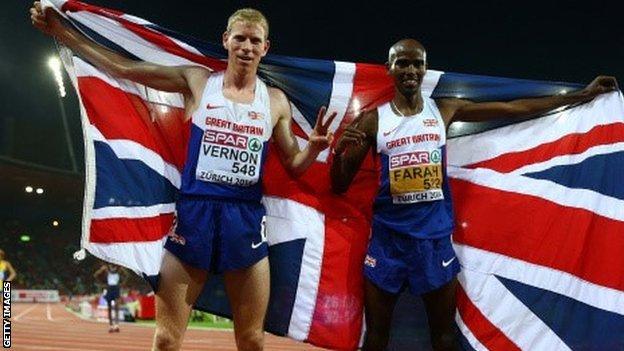 Mo Farah's row with Great Britain team-mate Andy Vernon is good for their sport, according to UK Athletics president Lynn Davies.
Somalia-born Farah, 31, claimed 29-year-old Vernon suggested he did not deserve to win European 10,000m gold last year because he was not European.
Davies said it brought to mind the historical rivalry between fellow Britons Sebastian Coe and Steve Ovett.
"It's not a bad idea to have gossip and talking points in athletics," he said.
"It adds spice and rivalry and we need personalities who are larger than life, not just great athletes but people who can engage with the public."
Speaking after the pair had a row on Twitter last week, double Olympic champion Farah said Vernon had questioned his nationality after winning the European 10,000m title last summer.
Vernon, who won silver in Zurich, told the BBC Farah's claim was a "huge, huge misrepresentation", adding he considers Farah to be British and hoping they can "move on".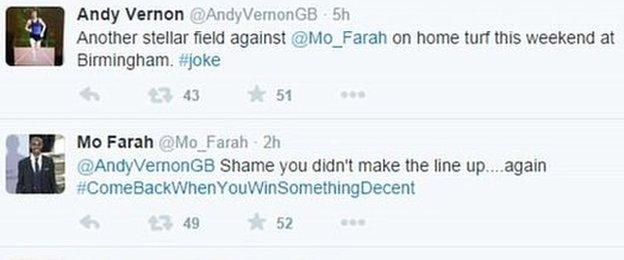 Davies, speaking at the launch of the 2016 IAAF World Half-Marathon Championships in Cardiff, said: "People talk about personalities and suddenly we've got two top-class athletes who are having a go at each other.
"We're overshadowed by so many other sports now that we need to put our heads above the horizon and say: 'Athletics is alive and kicking and we've got personalities here'."
Coe and Ovett dominated middle-distance running in the late 1970s and first half of the 1980s.
Davies said: "You couldn't have had two characters with more different personalities.
"They didn't speak to each other and, of course, that creates a lot of public interest because there's a human story.
"Mo and Andy are both great guys but sometimes in athletics you get this keen rivalry."
Farah broke the two-mile indoor world record by clocking eight minutes 3.40 seconds at the Birmingham Indoor Grand Prix on Saturday.