Adam McMullen begins Ireland's Euro Indoors challenge in Prague
Last updated on .From the section Athletics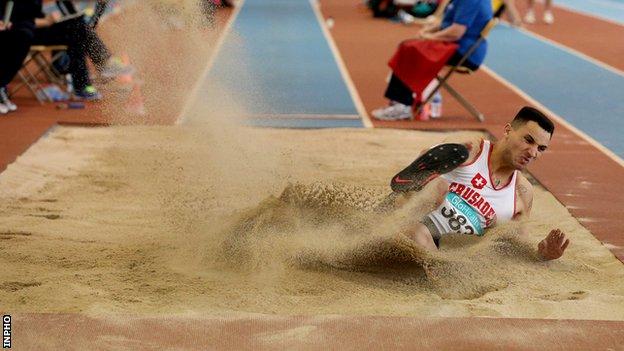 Bellaghy man Adam McMullen will be the first Irish team member in action at the European Indoor Championships in Prague when he competes in long jump qualifying on Thursday evening.
The men's long jump is one of three events which has qualifiers on Thursday before the championships begin in earnest on Friday morning.
"I'm looking forward to it," McMullen, 25, told BBC Sport NI on Thursday.
"I'm not putting any pressure on myself. Just looking to enjoy myself."
McMullen earned his major championship debut by adding a huge 32 centimetres to his personal best when winning the Irish Indoor title in Athlone two weeks ago as he leaped 7.80m.
The breakthrough leap was reward for an athlete who won his first Irish schools title as a 14-year but yet wondered if he was ever going to fulfil his potential in recent seasons.
"It's been difficult over the last two or three years, I have to admit," adds McMullen, whose varied sporting endeavours in his younger days included playing for Newbridge gaelic football club in his native county Londonderry.
"You put a lot of time but when the distances that you think you should be getting don't come, you wonder if you should be putting in your time to something a bit more productive."
The six foot five inch athlete has attributed his improvement over the winter to a more disciplined approach in training and also "cutting down on the gym a bit".
"You can just get a bit too heavy and bulky if you overdo the gym work and you don't really want that in the long jump," adds the 25-year-old.
McMullen's 7.80m leap in Athlone moved him to second on the Irish all-time list behind national record holder Ciaran McDonagh.
Inevitably, there will be talk of the south Derry man getting close or perhaps even bettering the eight-metre barrier and while McMullen believes it can happen, he is not putting any timeframe on it.
"The key is getting the consistency and jumping in the 7.80s and the 7.90s and hoping that you can pop an eight-metre jump out," who has been coached for the past year by Alan Kennedy.