European Indoors: British athletes tipped to win gold in Prague
Last updated on .From the section Athletics
European Indoor Championships
Venue:
Prague 02 Arena
Dates:
Fri 6 - Sun 8 March
Coverage:
Friday - BBC Two 08:30-12:00; Red Button 12:00-13:00 and 14:45-18:00. Saturday - BBC Two 08:30-11:00 and 16:30-19:30. Sunday - BBC Two 13:05-17:35. Coverage also online, BBC Radio 5 live and 5 live extra
Will the multi-talented multi-eventer Katarina Johnson-Thompson win her maiden senior major championship title? Can Britain's 800m world leader Jenny Meadows finally enjoy the European spotlight?
British Athletics has refused to set a medal target for this weekend's European Indoor Championships in Prague. Their best medal haul in the competition was 10 in 2005, so can they scale those heights in the city of 100 spires?
BBC Sport pundits Steve Cram, Paula Radcliffe, Denise Lewis and Colin Jackson give their verdicts on the team's chances in the Czech Republic.
The golden contenders
Katarina Johnson-Thompson
Event: Pentathlon Age: 22 Best score: 4,526 points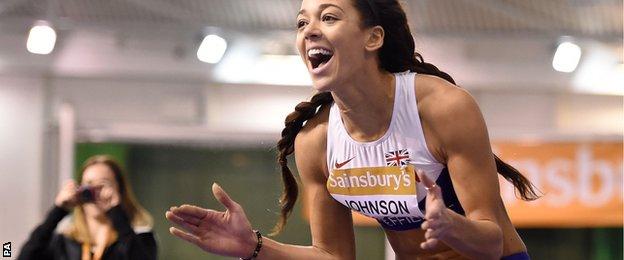 But for a foot injury, which meant she missed the Commonwealth Games and European Championships in 2014, Katarina Johnson-Thompson might already have claimed her maiden major international title.
The Liverpudlian's wait might soon be over, given her early-season form of setting British records in the long jump and high jump.
"Katarina has made one of the most impressive starts to the year in a long time," former Olympic heptathlon champion Denise Lewis said. "Getting that first global senior title is a big deal, especially after the disappointment of last season. I think she'll win."
Victory in Prague this weekend would set up the mouth-watering prospect of a Johnson-Thompson versus Jessica Ennis-Hill showdown for world championship gold in Beijing this summer.
"I do think the prospect of that battle later this year will be there in the back of Kat's mind this weekend but she's very single-minded," said Lewis, adding Johnson-Thompson could break Ennis-Hill's British pentathlon record of 4965.
Watch: All five pentathlon events take place on Friday, beginning with 60m hurdles at 08:45 GMT, ending with 800m at 16:35.
CJ Ujah
Event: Men's 60m Age: 21 Season's Best: 6.53 seconds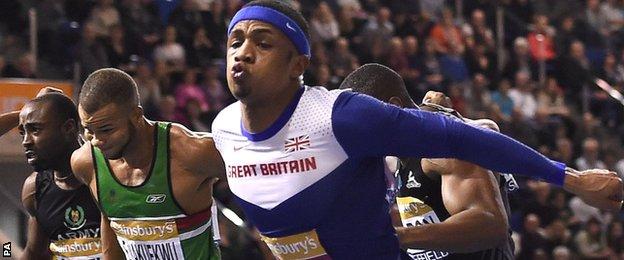 Last summer, after becoming only the fifth British athlete to dip below the 10-second barrier in the 100m, CJ Ujah was expected to deliver Commonwealth and European medals. But the vagaries of the British selection system, and a sub-standard display at the trials, meant the sprinter watched both major championships from the comfort of his sofa.
The men's 60m is an event Britain usually does well in, winning a medal in every European indoor final since 1988.
"He's got to maintain that British theme," former 60m indoor world champion Colin Jackson said of the fastest man in the field.
One man who will be hoping to push British 60m indoor champion Ujah, 21, is fellow Briton Richard Kilty, who won the 2014 world indoor title over 60m. Only one hundredth of a second separates Kilty and Ujah this season.
Heats - Saturday 09:35; semi-final - Sunday 13:55; final - Sunday 16:15
Dina Asher-Smith
Event: Women's 60m Age: 19 Season's best: 7.12 seconds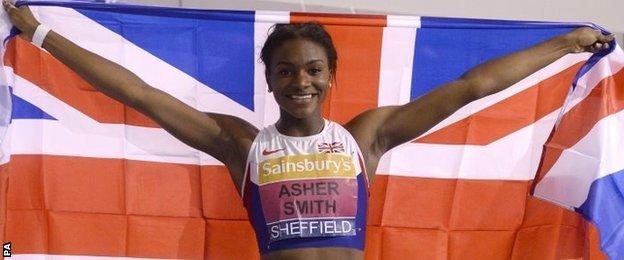 In contrast to the male sprinters, Britain's women have not appeared on the podium since 1985.
History student Dina Asher-Smith, the world junior champion and Britain's best bet to end that depressing run, is unlikely to let the past worry her. But can the 19-year-old, already the British 60m champion, graduate with distinction against the seniors?
Reigning European 100m and 200m champion Dafne Schippers of the Netherlands will start as favourite, but Lewis is not ruling out a British medal.
"Schippers will be the one to beat as she had an incredible season last year," Lewis said.
"Dina is a natural runner, doesn't over-think things and has nothing to fear. She is still a bit raw but if she executes her race and, crucially, starts well, then she could be in the mix."
Heats - Saturday 09:00; semi-final - Sunday 13:30; final - Sunday 15:55
Lawrence Clarke
Event: Men's 60m hurdles Age: 24 Season's best: 7.59 seconds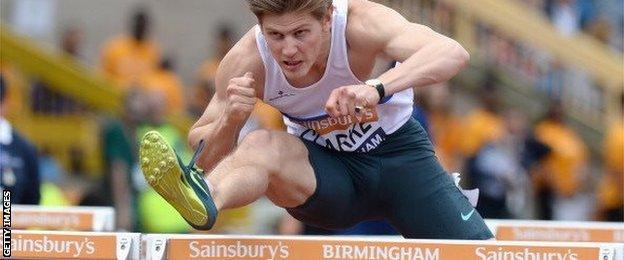 Lawrence Clarke is attempting to bounce back after a "demoralising" two years of injuries. A broken wrist and pulled hamstrings ruined 2013, and he had to withdraw from last year's European Championships final after tweaking his hamstring in the warm-up.
Former 110m hurdles world champion Jackson said: "He's certainly in with a chance of a medal but given the last few years he's had I wouldn't be worried if he came fourth as long as he comes through the indoor season with no injuries."
But Great Britain will be expecting their team captain - fourth at London 2012 - to lead from the front, especially as only two Europeans, Dimitri Bascou and Wilhem Belocian, have run the 60m hurdles quicker than him this year.
Heats - Friday 09:30; semi-final - Friday 15:25; final - Friday 17:55
The emerging talent
Seren Bundy-Davies
Event: Women's 400m Age: 20 Season's best: 51.72 seconds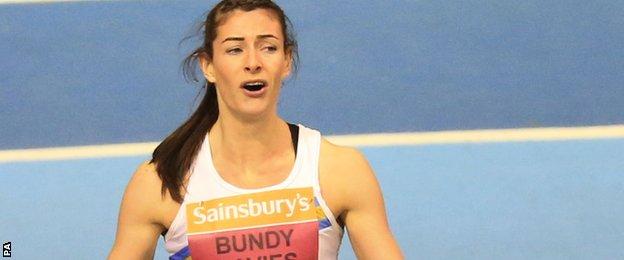 But for her inexperience, Seren Bundy-Davies would be among the list of Britain's gold-medal contenders. The 20-year-old arrives in Prague top of the European rankings in the 400m after clocking 51.72 seconds at the Birmingham Grand Prix, beating Olympic gold medallist American Francena McCorory in the process.
"She's going in as the favourite rightly," former European 400m medallist Allison Curbishley said.
The Welsh athlete spent much of her childhood playing hockey and football, having a trial with Manchester City in the latter, but it is in athletics she has found her calling.
"To do what she did in Birmingham she's clearly shown that she's a winner," Curbishley added of Bundy-Davies, who only broke 54 seconds for the first time last May.
Heats - Friday 10:00; semi-final - Friday 16:10; final - Saturday 18:10
Morgan Lake
Event: Pentathlon Age: 17 Best score: 4,284 points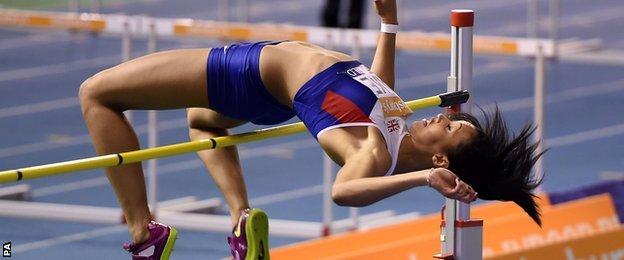 The conveyor belt which produces world-class British heptathletes shows no sign of grinding to a halt. Johnson-Thompson is only 22 yet favourite for gold this weekend and competing against her in the pentathlon will be 17-year-old compatriot Morgan Lake.
The Windsor athlete has long been tipped for global success and the sponsorship deals are already in place. She showed at last year's World Junior Championships, where she won double gold in the high jump and heptathlon, that the money-men's faith is well placed.
"She's never going to be out of the limelight being a young British heptathlete," Lewis said. "A medal is a big ask this weekend but it is great for her to have someone like Katarina to watch and learn from. 2015 needs to be a consolidation year for Morgan."
Watch: All five pentathlon events take place on Friday, beginning with 60m hurdles at 08:45, ending with 800m at 16:35
David Omoregie
Event: Men's 60m hurdles Age: 19 Season's best: 7.71 seconds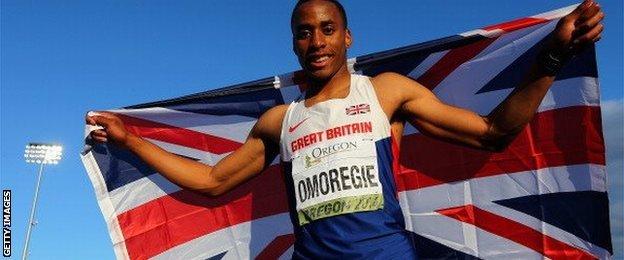 World Junior Championships bronze medallist David Omoregie should view Prague as an opportunity to learn and develop in the 60m hurdles, according to his fellow Welshman Jackson.
The 19-year-old Cardiff athlete finished behind world junior champion Wilhem Belocian in Eugene last summer and the Frenchman is ahead of him once again, arriving in the Czech Republic ranked second quickest in the world over the distance.
Jackson said: "David will be looking at Wilhem and thinking if he can do it then so can I. But having the endurance levels to cope with running round after round is something that only comes with experience and David is still young."
Heats - Friday 09:30; semi-final - Friday 15:25; final - Friday 17:55
The veterans
Jenny Meadows
Event: Women's 800m Age: 33 Season's best: 1:59.21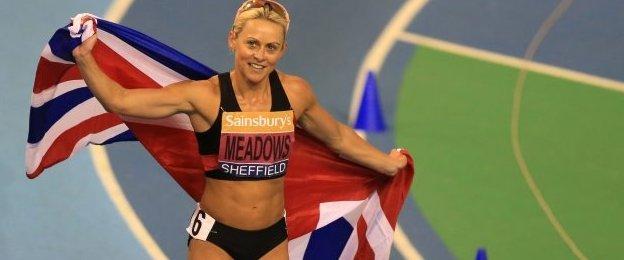 Jenny Meadows is in the record books as the 2011 European Indoor champion but that title was only awarded 18 months later when original champion Yevgeniya Zinurova was banned for doping. It is one of six medals the Wigan athlete believes she has lost to drug cheats.
But while the 33-year-old has spoken of dopers potentially causing the death of the sport, she has enjoyed a rebirth in 2015, setting two of the quickest 800m times of the year.
"I think Jenny comes in with a point to prove having had a rough few years and is also fuelled by the fire of seeing so many of those who beat her to victories and medals exposed as cheats," marathon world record holder Paula Radcliffe said.
Heats - Friday 11:15; semi-final - Saturday 17:00; final - Sunday 14:15
Lee Emanuel
Event: Men's 3,000m Age: 30 Season's best: 7:45.12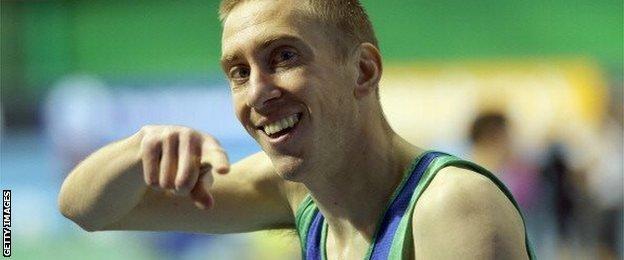 Meadows is not the only thirty-something medal contender. Britain could have a surprise medallist in the 3,000m if 30-year-old Lee Emanuel, the third-quickest man in the field this season, continues his good form.
"I think he's got a good chance of winning - he has enough pace for the end of the race and the field is not full of all-time greats," former world champion Steve Cram said.
"It's a big opportunity for him because he is in the shape of his life."
Heats - Friday 17:00; final - Saturday 18:45