Athletics: Seren Bundy-Davies sets sight on European indoor final
Last updated on .From the section Athletics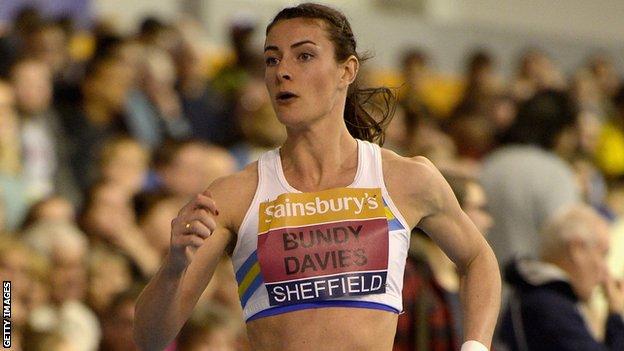 Seren Bundy-Davies is not setting herself targets for the European Indoor Championships in Prague.
The 20-year-old Welsh athlete has the fastest indoor 400m time in Europe this year, after setting a personal best of 51.72 sec in February.
But she fell in the British Championships at Sheffield in her last race.
"I'm not not going to make an aim as specific as a medal but I do want to make that final," she said.
"I know I can run fast enough to get myself into contention for a medal, but when you don't have your own lane anything can happen."
Bundy-Davies missed out on the Commonwealth Games in 2014 after failing to run the qualifying time of 52.50 sec before the deadline.
She described her efforts to reach the Glasgow event as a "nightmare".
"I spent the whole of last season trying to get my 52.5 Commonwealth Games qualifying time and I couldn't do it because I just couldn't get fit in time," she added.
The frustration of her 2014 season make the early success this year a lot sweeter, she said.
"To run my best time so easily - and indoors when I couldn't break 54 seconds last year - it was kind of surreal.
"But really exciting because I knew how much I put in to it so it was really nice to get the reassurance I'm heading in the right direction."
The heats of the women's 400m start at 10:00 GMT on Friday, 6 March.