European Indoor Championships: What did we learn?

By Steve Cram
BBC athletics commentator
Last updated on .From the section Athletics
The European Indoor Championships in Prague have proved successful for Great Britain with nine medals and some impressive performances.
It is the start of a busy year in athletics which will culminate in the World Championships in Beijing in August.
BBC commentator Steve Cram looks back at some of the highlights from the three days of action in the Czech Republic.
Katarina the great
The whole of the heptathlon world will be looking at how dominant Katarina Johnson-Thompson's victory was this weekend.
She is very ambitious and hungry - she will not want to wait until after this summer's World Championships or next year's Olympics to win more titles; she will be expecting to win over the next two years.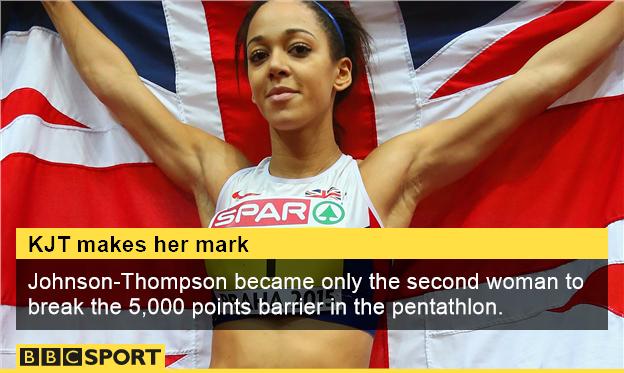 I am happy with her being frustrated when she crossed the line in the 800m and found out she had missed out on the world record. It didn't tell us anything we did not know - she is a very tough competitor.
Knowing Jessica Ennis-Hill, she will be hugely motivated watching Katarina this weekend.
Motivation could have been an issue for Jess this season on her return to the sport after having a baby. She has won Olympic and world titles and is a very famous person.
Now she has been brought right back down to what she does best - working out how to win heptathlons. I think Kat's rise should be great for Jess. It is the perfect motivation for her to come back at a really high level - she is going to have to.
Student Dina top of the class
Dina Asher-Smith impressed me a lot by winning 60m silver. We have already seen what she is capable of when she was part of the 4x100m bronze medal-winning relay team at the Moscow World Championships in 2013.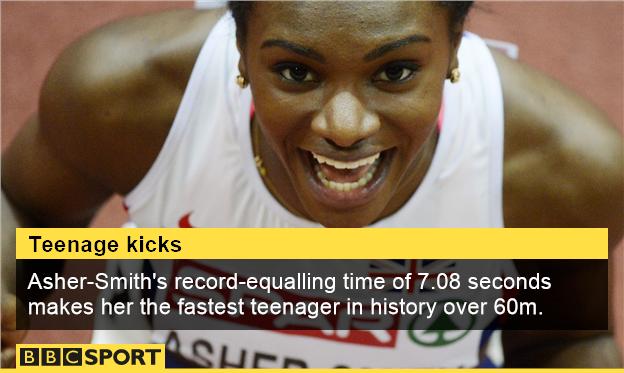 I like the way she handles herself. She is not getting too carried away but she has a nice attitude towards everything. Running 7.08 seconds in Prague and equalling the British record was great. She was right in saying she can run faster than that.
She is very young at 19 but her performance was very impressive this weekend and really bodes well for the summer.
Continental concerns
European Indoor Championships go in cycles. When you are leading into an Olympic year they tend to be a little weaker because a lot of the big stars are thinking about the next 15 months with the Beijing World Championships and then the Rio Games.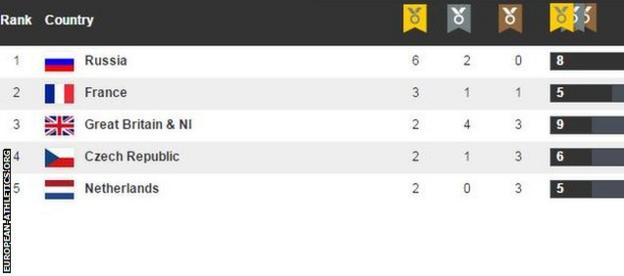 We saw that a little bit this weekend with, for example, the women's 1500m, which did not have enough athletes and had to go straight to a final. That is definitely an issue. The European Athletics Association has got to keep an eye on that across some of its events where the depth does not appear to be there.
As always at a European Championships, you look for truly world-class performances and I think the likes of Katarina and French pole vaulter Renaud Lavillenie provided some of those along with the most popular victory of the weekend from the Czech Republic's 400m star Pavel Maslak.
Britain's sprint stars
I have already mentioned Dina Asher-Smith but Richard Kilty adding European 60m gold to the world indoor title he won last year was a great performance.
The exciting thing for British sprinting is that he could very well not make the team for the World Championships because of the strength in depth that we are starting to have with the likes of James Dasaolu, a sub-10-second 100m guy who was not in Prague.
We need that strength in depth in British teams because that drives the overall standard up.
If you have got to run sub-10 seconds to make the team - like you do in Jamaica - then it means the people going are of a top-class level.
GB's overall display
I know people have looked at Britain's nine medals in Prague and compared it to our best-ever medal haul of 10 from Birmingham in 2007. I do not think you can really compare them because there are so many different factors.
As one of - if not the - strongest nations, Britain should expect to come to the European Indoor Championships and do well. I said at the start of the weekend that Britain should win eight, nine or 10 medals and that is what they did.
In terms of the relevance of this weekend for this summer's World Championships, I think that is up to the individual. I don't think we can put a team relevance on to it because that is not how athletes think. KJT will take a lot of confidence into the summer and the likes of CJ Ujah might have had a bit of a wake-up call from his experience here of a false start in the 60m final.
Choosing some of the youngsters to come to Prague was the right thing for British Athletics to do strategically. Most of it has been a big success.