European Indoors: Jenny Meadows pulls out of 800m final
Last updated on .From the section Athletics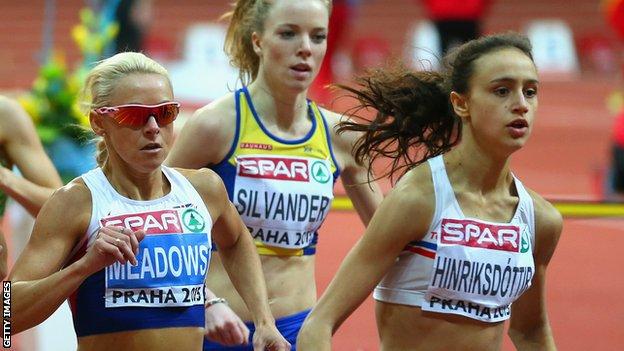 Britain's Jenny Meadows will not compete in Sunday's 800m final at the European Championships in Prague after withdrawing on "medical grounds".
British Athletics said a virus the 33-year-old had been suffering with all week had worsened overnight.
"I'm disappointed not to be running. I went to bed hopeful that I could compete," said the Wigan athlete.
Meadows, the 2011 800m champion, qualified for the final after Russia's Anastasiya Bazdyreva was disqualified.
The Briton had been in the form of her life before the championships, posting four of the five quickest times of the year over the distance indoors.
She had failed to qualify automatically for the final, finishing a disappointing fourth, but a successful British Athletics appeal against the Russian athlete who had stepped off the track ensured her progress.
"I would have given everything I have got in me over those four laps but I am serious about doing well in the outdoor season this year and that has to be the bigger picture," added Meadows.
Meadows was only awarded her 2011 indoor title 15 months after the event when original winner Yevgeniya Zinurova, of Russia, was banned for doping.
But after returning to top the world rankings this season after three injury-hit years, Meadows admitted: "I just feel like having a bit of a cry and thinking when will life ever turn for me."
Switzerland's Selina Buchel won the event and Meadows later tweeted: "Gutted not to have taken my opportunity in the 800m final today but glad to see an athlete who hasn't served a doping ban or anyone implicated to have doped win! Buchel ran a gutsy race! A fine champion!"