Russian doping: Our athletes are now clean, says new head coach
Last updated on .From the section Athletics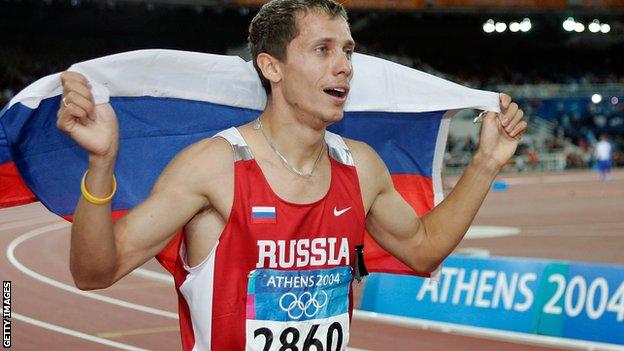 Russia's new head coach of track and field insists that his team are clean from doping.
The World Anti-Doping Agency (Wada) is investigating claims made in a German television documentary that 99% of Russian athletes were doping.
"The past should stay in the past. Now we have a new team and everyone in it is clean," said Borzakovsky.
The International Athletics Federation (IAAF) is also looking into allegations that IAAF officials were implicated in covering up doping in Russia.
Athletes' reaction to documentary claims:
Women's marathon world record-holder and former world marathon champion Paula Radcliffe: "Sick to my stomach. Some of the allegations coming out of this are every sport's worst nightmare."
Four-time Olympic rowing gold medallist Sir Matthew Pinsent: "This is grim reading for Olympic sports fans - it casts a pall over every Russia performance for an Olympiad."
German pole vaulter and reigning world champion Raphael Holzdeppe: "The documentary was shocking. We can only continue to set a good example and keep pursuing clean sport."
Broadcaster ARD alleged there is systematic doping in Russian athletics, but the country's athletics federation called the claims "lies".
In January five Russian race walkers, including three Olympic champions, were banned for abnormal blood levels in their biological passports.
"The athletes even have a certain fear of the management and of me personally," said Borzakovsky, who won gold in the 800m at the 2004 Olympics.
The 33-year-old, who was appointed in a temporary capacity but is expected to become permanent coach later this week, added: "I've made sure the guys understand that it's finished, that that page has been turned."