Russia doping bans appealed against by world governing body
Last updated on .From the section Athletics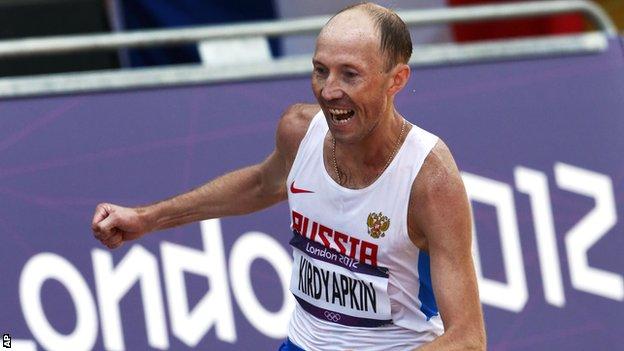 Punishments given to six Russian drug cheats by the Russian Anti-Doping Agency have been taken to the Court of Arbitration for Sport by track and field's world governing body.
Rusada took away some medals won by the five walkers and a steeplechaser after banning them for doping offences, but did not strip them of any Olympic medals.
The International Association of Athletics Federations (IAAF) is appealing against the "selective disqualification of results".
Race walkers Valeriy Borchin, Olga Kaniskina, Sergey Bakulin, Sergey Kirdyapkin and Vladimir Kanaykin, and steeplechaser Yuliya Zaripova were all found to have abnormalities in their IAAF biological passports.
BBC Sport's Matt Slater
"After a dreadful winter for athletics, this feels like the start of spring. It is about time. The bans given to these cheats by the Russian authorities were at the lenient end of the scale, so the IAAF will want longer.
"But it is the selective cancelling of results that Rusada tried to get away with that is most shocking. These six were part of a long-term doping programme. That means they should be erased from the record books, not allowed to keep one medal in return for giving up another."
The IAAF has yet to make a decision over whether to appeal against the case of 2011 world heptathlon champion Tatyana Chernova.
Chernova received a two-year backdated ban, beginning on 22 July 2013, with her results from 15 August 2009 to 14 August 2011 annulled.
However, the world title she collected in 2011 at the expense of silver medallist Jessica Ennis of Great Britain, was won 16 days later.
The six Russian athletes

Valeriy Borchin

20km walk: Olympic champion in 2008 and double World champion. Caught doping twice so got an eight-year ban in Jan 2015, but only lost some results between 2009-12, so kept 2008 Olympic gold and 2009 World gold.

Olga Kaniskina

20km walk: Olympic champ in 2008, silver in London and three-times World champion. Got three-year and two month ban for biological passport irregularities in January and lost her 2009 and 2011 World golds, kept the Olympic medals.

Sergey Bakulin

50km walk: 2011 World champion. Caught cheating before and possibly competed during his ban. Got a three-year and two-month ban in January.

Sergey Kirdyapkin

50km walk: 2012 Olympic gold and double World champion. Lost his 2011 title when he was given three-year and two-month ban in January.

Vladimir Kanaykin

20km walk: 2011 world silver. He lost that in January when he was given life ban - he had already served a ban for EPO in 2008.

Yuliya Zaripova

3,000m steeplechase: Olympic champion in London, world gold in 2011 and silver in 2009. Got a two-year and six-month ban in January, but has so far kept her medals.