Justin Gatlin: Nike deal for drugs cheat sparks athletes' disgust
Last updated on .From the section Athletics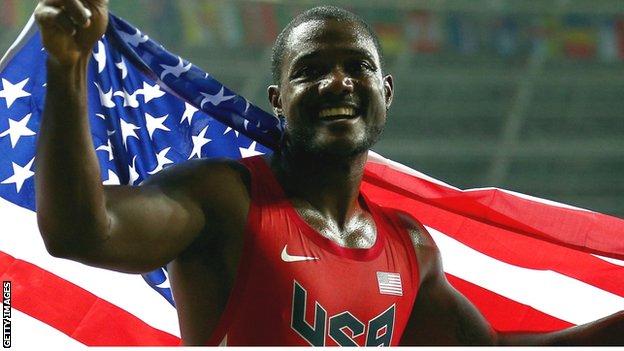 News that drug cheat sprinter Justin Gatlin has been given a new sponsorship deal by Nike has infuriated many other athletes.
The 33-year-old American may have dominated the 100m and 200m in 2014, but several of his peers don't think this should equate to a new sponsorship deal.
Gatlin has served two doping bans, including a four-year suspension between 2006-2010.
Double Olympic silver medallist Steve Backley tweeted: "What sort of a message is that from #Nike signing new sponsorship with multiple drug cheat Justin Gatlin? #DrugCheatsOut #Nike marketing you've got this really wrong this time."
Nike-sponsored marathon runner Paula Radcliffe also waded-in with a Facebook and Twitter message venting her disappointment.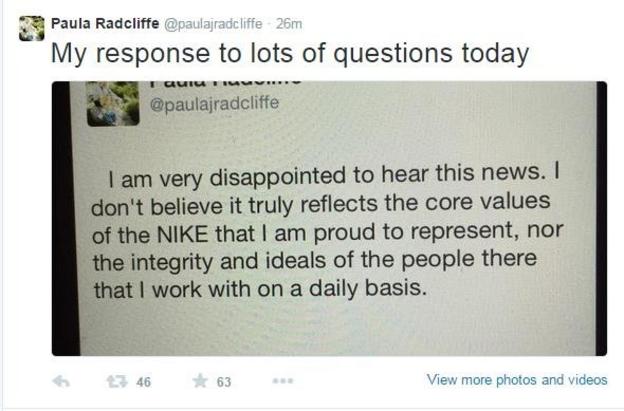 Team GB London 2012 marathon runner Scott Overall was appalled, too, tweeting: "Disgusting how @justingatlin can cheat, come back & secure a sponsorship deal. Just leave the sport to clean athletes."
Athens 2004 heptathlon bronze medallist Kelly Sotherton added: "What inspiration does Justin Gatlin give up & coming athletes @nike? Take drugs, get caught twice and sign a shoe contract?! #Doping #cheat".

British 800m runner Jenny Meadows tweeted: "Gatlin gets Nike deal having served 2 doping bans when clean athletes lead world indoor rankings & have no funding or sponsorship! Justice?"
Gatlin was sponsored by Nike prior to his second ban but has been wearing Chinese firm Xtep's kit since 2012.
His US team-mate Tyson Gay, who has also recently returned from a drugs ban, will also be wearing Nike clothes and spikes this season, although the company denies this is a result of a formal tie-in.
Nike confirmed it signed a new agreement with Gatlin, but had no further comment.