Moses Kipsiro: Ugandan athlete embroiled in a macabre farce

Last updated on .From the section Athletics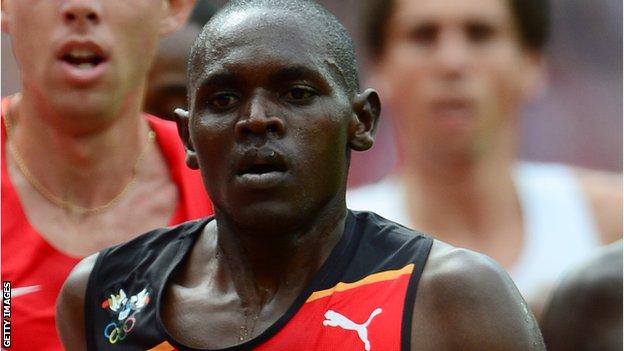 When Moses Kipsiro rounded the final bend in the 10,000m at the Commonwealth Games eight months ago, he was third behind Canada's Cameron Levins and Kenyan Josphat Bett, and looking a little boxed in.
The Ugandan had won a 5,000/10,000m double at Delhi 2010, beating Kenya's A team, but had flopped in the shorter distance in Glasgow five nights before.
If a gap did not open up soon, Kipsiro was heading towards another consolation prize in a career that has had too many bad breaks for a man so talented, none more so than when he was an early faller in the final of the Olympic 10,000m at London 2012.
Occasional training partner Mo Farah - they also share an agent - was among the beneficiaries that night.
The British superstar, who had been concerned about Kipsiro's fast finish in the build-up to the race, went on to take gold, adding the 5,000m crown to his list of accolades a week later.
Fast forward to 2014 and Levins and Bett were not as fortunate. Kipsiro passed the Canadian with 15m to go and ran down his Kenyan rival with 15cm to spare; just 0.03 seconds between them in a 28-minute race.
But now Kipsiro is the one being hunted, in danger of attracting more global fame than he could ever have wished for.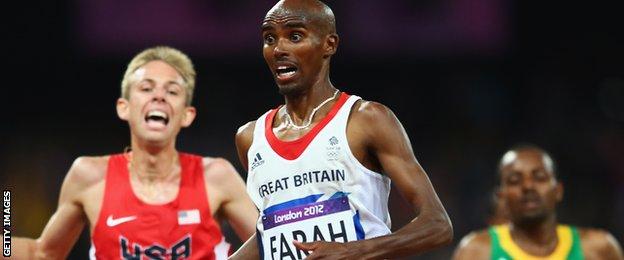 Uganda is a poor country held back by the legacy of civil wars, corruption and tribal tensions but the potential for development is massive. Ugandan athletics is no different.
For a decade, the 28-year-old Kipsiro has symbolised that state of affairs: a Ugandan able to beat the best from Kenya and beyond but not as regularly as Uganda would like.
Now he is the central player in a macabre farce that combines allegations of abduction, arson, black magic, murder and rape.
This remarkable story - from a world far removed from the refined stops on the Diamond League circuit - started a year ago when five young female distance runners came to Kipsiro at Uganda's training base in Kapchorwa, in the north east of the landlocked country.
They told him that a coach called Peter Wemali, a policeman with no previous experience of coaching elite athletes, had an unusual and worrying theory on how they could "run like Kenyans".
His advice, they said, was that they get pregnant and have abortions, as this would "widen their private parts so their legs move more freely". And Wemali, they added, was very keen on doing the impregnating. The youngest of the five athletes was 15.
Kipsiro was outraged and, as the team's captain and most established athlete, complained to the Ugandan Athletics Federation (UAF), demanding Wemali be immediately dismissed.
At this point, the story splits into rival narratives.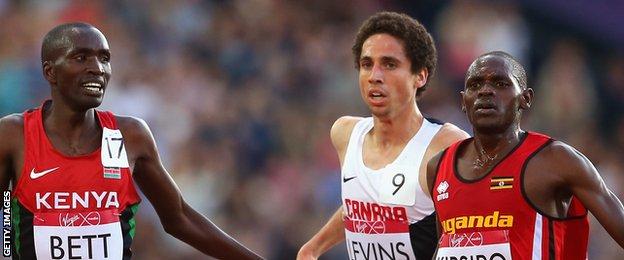 Kipsiro, who spoke to the BBC from hiding in the Ugandan capital of Kampala this week, said he, not Wemali, was thrown off the team following his complaint, missing the World Half Marathon Championships in Denmark a week later.
According to Kipsiro, a cursory investigation of the female runners' allegations was carried out by the UAF and local police, but ranks were closed, wagons circled, traffic waved on.
Kipsiro was invited back into the fold to defend his Commonwealth titles in August, but the feud between him and his camp, and Wemali and his camp, was only just warming up.
In December, Kipsiro claims the coach, whom he also accuses of practising witchcraft, murdered another athlete who had spoken out against him and tried to kill Kipsiro's brother during a motorbike chase.
In February, Kipsiro says an off-duty Wemali and henchmen tried to abduct the same brother from Uganda's Cross Country Championships but were beaten off by angry onlookers, with shots being fired to restore order. Kipsiro had only just finished competing in the men's 12km race when the fight erupted.
Then last month, Kipsiro pulled out of the squad for the World Cross Country Championships in China at the 11th hour after receiving a series of threatening phone calls and text messages from an unknown number, a number he believes either belongs to Wemali or a close associate of Wemali's.
Moses Kipsiro factfile
Age:
28
Born:
Singare, Uganda
Major medals:
3 x Commonwealth gold (5,000m & 10,000m in 2010, & 10,000m in 2014), 1 x World Championship bronze (5,000m in 2007), 1 x World Cross Country silver (2009), 1 x World Cross Country bronze (2010)
Near misses:
4th at 2008 Olympics & 2009 Worlds (5,000m), & 4th at 2013 World Cross Country
The most recent of these texts warned the runner that if he continued to "tarnish me" in the press "I will deal with you, trust me".
Kipsiro, who is from a poor district on the Ugandan/Kenyan border, has been in Kampala ever since, trying to bring whoever sent the messages to justice. He was with the police on Monday and an investigation has begun.
Meanwhile, his cousin has been arrested at home on suspicion of an arson attack on Wemali's house, which is a good point to return to the fork in the road and pick up the rival narrative.
Wemali, with whom the BBC has also spoken this week, scripts this play very differently. The 35-year-old claims he is the victim of a politically motivated campaign orchestrated by Kipsiro.
There was no sexual harassment, as the UAF reported, and there was no murder. In fact, he was shot at by Kipsiro's brother, not the other way around, and the failed arrest at the cross country championships was to do with an allegation of theft.
Wemali also says he is on the run, of sorts, as he has to continually move house. He says he will probably have to do so again after Saturday's arson attack.
The controversial coach, whose Facebook page has pictures of him in training mode and lists his connections to the police force and UAF, is not without supporters. The BBC has spoken to people in the Kapchorwa area who back his version of events and say Kipsiro is lying.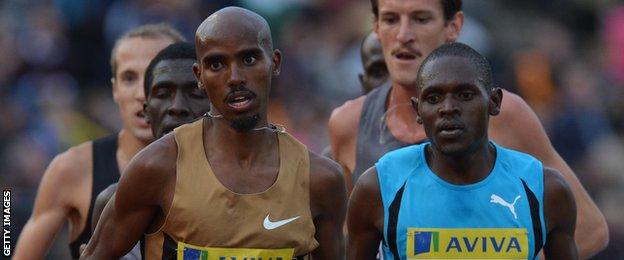 But why?
Wemali says it is all to do with politics. He votes one way, Kipsiro votes another, and it is clear, even from this far away, that the latter has his own backers in high places.
But that still does not answer the question why an internationally successful athlete, whose career supports his wife, three children, five brothers, four sisters, parents and extended family, would get involved in a dangerous vendetta with a policeman.
It is a question the International Association of Athletics Federations now wants answered.
It confirmed on Wednesday it has opened an investigation into the UAF's handling of this affair.
In the meantime, Kipsiro's career is on hold, with medal opportunities passing by, and Wemali has recently been suspended, although the UAF maintains it has found no wrongdoing. The authorities also continue their separate inquiries into the arson and death threats.
As for the fate of the female runners, that remains unclear. A Ugandan newspaper spoke to three of them last year, but it seems nobody else has, or they have and nobody is talking about it.
So the central allegation - the sexual harassment of young women by a man in a position of authority - is unresolved.
That is a sorry situation for a country that will never unlock its potential if it cannot look after its own.