Will Golder: Former GB bobsleigh driver has sprint ambitions
Last updated on .From the section Athletics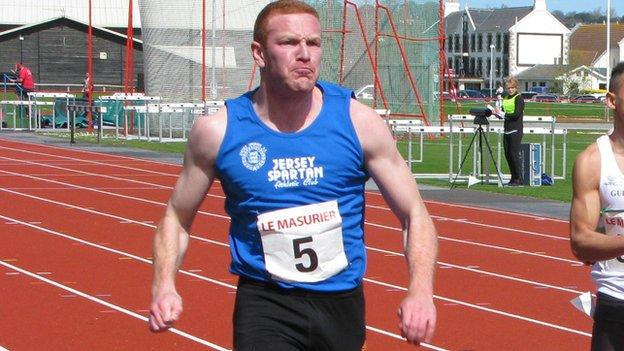 Former says he is confident he will get the time he needs to qualify and represent Jersey in the 100m at this summer's Island Games.
Golder, 26, finished third in his first 100m race in a time of 11.76 seconds, just outside the 'B' standard of 11.74.
"It's a steep learning curve and I'll be there," Golder told BBC Jersey.
"The way my training programme's written I'll be there two weeks before the games," he added.
Golder still has to get the qualifying time, and may even have to run the Island Games 'A' standard of 11.40 seconds for the event which takes place in Jersey from 27 June to 3 July.
"I've got to qualify first, that has to be the main aim," he said.

"I'll probably go away to the UK to try and do a run there and try and get the qualifying time.
"(To finish third) is a nice achievement as there are some good athletes here from Jersey. There's some guys that have run some quick times here today so we're looking to have a pretty strong athletics team for the Island Games and that's the most important thing."
A number of sprinters have crossed over to bobsleigh, such as and 1990 Commonwealth Games 200m champion Marcus Adam, but few have gone in the other direction.
"The training that we did for bobsleigh was all sprint-based, but that's for 30m or 40m," Golder said.
"I've transferred the skills to 40m but I've got to hold on to 100m and that's very different for me."