London Marathon 2015: Paula Radcliffe 'unprepared but healthy'
Last updated on .From the section Athletics
London Marathon 2015
Date:
Sunday, 26 April
Coverage:
Live on BBC Two from 08:30 BST and BBC One from 10:00, Radio 5 live and BBC Sport website from 08:30.
Full details here.
Three-time London Marathon winner Paula Radcliffe says she will enter this year's race "unfit", but healthy.
The 41-year-old, who set a world record time of two hours 15 minutes and 25 seconds in London in 2003, has been struggling with injuries this year.
Radcliffe, who has run the quickest three marathon times by a woman, is taking part in her final 26.2-mile race on Sunday, starting in the mass ranks.
"At least now I feel like I'm going in healthy," she said.
"I'm going in unfit and unprepared for a marathon, but I'm hoping my body can remember once it gets out there how it's supposed to do it."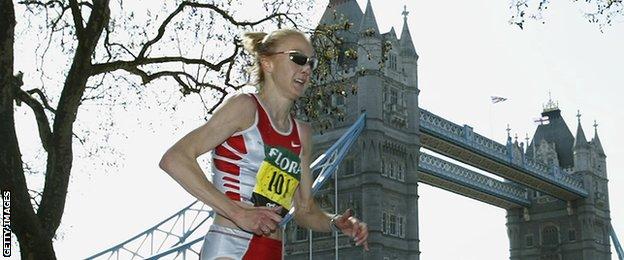 Throughout her career she has suffered from persistent foot and Achilles tendon injuries, with the latter proving a hindrance in her preparation for London.
"It's definitely looking a lot better now than even three weeks ago," she said.
"It was going really well. I went out in Kenya in February, I thought I was being really careful and not getting carried away, but I probably did start thinking about what times I might be able to run.
"The trails are pretty rocky out there and I tweaked my Achilles. I didn't think it was that big a deal at first. It took about six weeks to settle down."
This year's race will carry extra significance for Radcliffe, who said she almost cried when told she will be presented with the inaugural John Disley Lifetime Achievement award, named after the London Marathon founder.
"The London marathon inspired me into running," Radcliffe said.
"I know I am not going to be competitive but to get the chance to take part in this race one more time is something that is really special."
Watch as Paula Radcliffe looks back at her career in Paula Radcliffe: The Marathon and Me on BBC One at 13:00 BST on Saturday, 25 April
London Marathon 2015
Date:
Sunday, 26 April
Start times:
09:00 wheelchair races; 09:20 elite women; 10:10 elite men; 10:15 Paula Radcliffe and leading club runners.
Coverage:
Live on BBC Two from 08:30 BST and BBC One from 10:00, Radio 5 live and BBC Sport website from 08:30.
Extra streams:
Elite races on the Red Button, selected Connected TVs and online from 08:30 plus marathon stories from 12:30 and the finishing line from 13:00 until 14:00.