Stockholm Marathon: U-turn made on 'Nordic only' prize money
Last updated on .From the section Athletics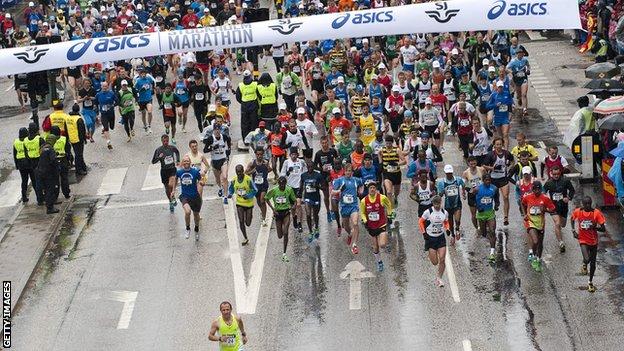 Stockholm Marathon 2015 organisers never intended to "discriminate", according to a race spokesman, after a decision to award prize money only to Nordic athletes was criticised.
It was hoped the new format would be an incentive for Nordic runners, with the men's event won by an athlete from Africa in each of the past 13 races.
Organisers have since made a U-turn.
"We were quite naive, we didn't foresee this kind of criticism," Lorenzo Nesi told BBC's Sportsworld programme.
"We have one very good female runner born in Kenya and one very good male born in Somalia. The rest of the Swedish runners are not that good at international level."
It was originally suggested the first Nordic male and female runners to cross the finish line on 30 May would each win 50,000 kronor (£3,840). If a non-Nordic runner won the marathon, he or she would walk away with only a medal and no money.
Although the women's race has been won by a Nordic athlete in eight of the last nine editions, the last time an athlete from the region took first place in the men's race was in 2001 when Sweden's Anders Szalkai won.