Jessica Ennis-Hill says she will have to lower expectations
Last updated on .From the section Athletics
Jessica Ennis-Hill says she is learning to cope with the expectations on her to be the athlete she was when winning gold in London 2012.
Injury and then motherhood have meant the Olympic heptathlon champion has not competed since July 2013.
"Probably a lot of people are expecting me to step on the track and be exactly the same as I was in 2012," she says.
"That's something I have to come to terms with, be realistic and know it's going to take time to build back."
The 29-year-old, the poster girl of the London Olympics, describes her comeback as one of the toughest challenges she has faced.
Having hardly competed since 2012, when she was in the "shape of my life", the thought of returning to battle again - starting with the Great City Games in Manchester on 9 May - makes her nervous.
"As an athlete you do face lots of challenges, whether that's coming back from injury or having setbacks, but this is definitely one of the hardest challenges I have faced," says Ennis-Hill.
"Having been at the top of my sport and stepped away, experienced a huge change to my life in having my son, mentally I've changed, physically I've changed. Building your body back to where it once was is incredibly hard."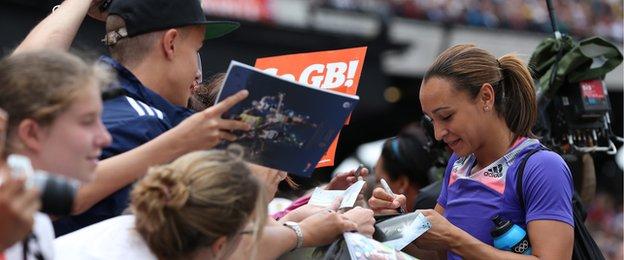 The multi-eventer made a gentle return to training in November following the birth of son Reggie nine months ago.
She does not know how competitive she will be because there have been setbacks in last few months, with minor Achilles injuries disrupting her progress.
"I'm not sure what level I'm at," says Ennis-Hill, who will race against European champion Tiffany Porter in the 100m hurdles next Saturday.
"They've not been solid months of training. It's going to take a few months, but I've just got to get the belief that I can get back to where I need to be."
The new mum confesses she watched with interest as the landscape of her sport shifted in her absence.
Her compatriot Katarina Johnson-Thompson, 22, is now a global force, breaking Ennis-Hill's British indoor pentathlon record when becoming European indoor champion earlier this year and setting a national high jump record of 1.97m.
"Heptathlon has moved on and it's going to be of a high standard when I step back into it, but it's great to see the event progressing," says the Sheffield athlete. "The high jump and long jump have progressed a lot."
Becoming a mother has helped her gain perspective and she says she is less anxious about the challenges ahead.
"Things which were once important to you and were the sole focus of your life aren't the same anymore," adds Ennis-Hill.
"I'm definitely a lot more relaxed than I used to be and trying to enjoy my sport and make the most of these last few years of competitive athletics."
Watch the Great City Games on BBC One and online from 13.00-15.00 BST on 9 May and the Great Manchester Run live on BBC Two and online from 11.00-13.00 BST on 10 May.