World Relays: Usain Bolt has 'no problem' with Justin Gatlin
Last updated on .From the section Athletics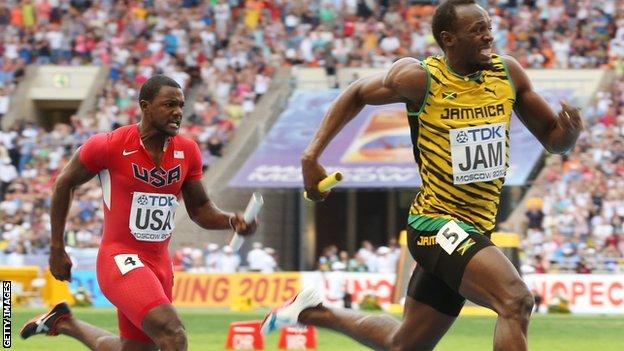 By David McDaid, BBC Olympic sports reporter in Nassau
Usain Bolt has no problem competing against Justin Gatlin because he feels that the four-year doping ban the American served was a fair suspension.
"The ban Tyson got was unfair and sent the wrong message," said Bolt.
"Justin Gatlin got his ban and served it, so for me it's not an issue."
The Jamaican sprinter will come up against both men this weekend in the 4x100m at the World Relays Championships in the Bahamas.
Bolt had said he was "not looking forward" to competing against Gay who was initially given a two-year ban in 2014 before having the punishment halved and backdated after co-operating with US doping authorities.
Gatlin - who was sidelined from 2006-2010 - was unbeaten in the 100m in 2014 and the 33-year-old is now viewed as a threat to Bolt's dominance in the event.
"Justin Gatlin is a great competitor. He's one of those guys who talks a lot and says a lot," said Bolt.
"So for me he makes the sport interesting and I look forward to running against him this season."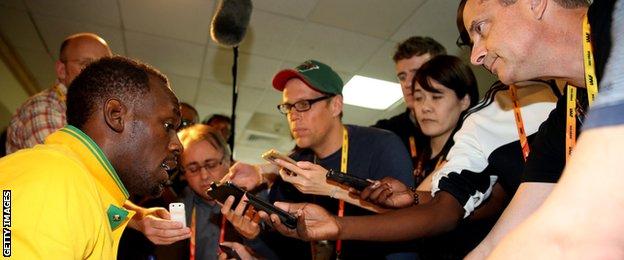 The event in the Bahamas is Bolt's second outing of 2015 after he won the 'Mano a Mano' 100m in Brazil earlier in April in a relatively slow time of 10.12 seconds.
That followed a 2014 season in which the 28-year-old was dogged by injury problems.
But Bolt believes he is capable of returning to his best form in time for the World Championships in Beijing in August.
"I can definitely get to that level. No question," he said. "The more I run the better I feel and I know I can get better.
"I'm not worried about this season. I know I have months to go until the World Championships.
"I never worry about one-off runs. For me they're stepping stones to the big goals. The main goal is to try and get through the season injury-free.
"Going to Beijing I've set a standard for myself so I need to step it up."