World Relays: Three GB relay teams secure Olympic spots
Last updated on .From the section Athletics
By David McDaid, BBC Olympic sports reporter in Nassau
Great Britain won two bronze medals as they qualified for three Rio Olympics events on the last day of the IAAF World Relays in the Bahamas.
The 4x400m and 4x100m women's teams won medals, while the 4x400m men came through their final in sixth place to guarantee spots at next summer's Games.
The 4x100m success means GB women can return to Olympic competition having failed to qualify for London 2012.
Usain Bolt was a surprise absentee from Jamaica's 4x200m winning team.
The reigning 100m, 200m and 4x100m Olympic champion felt soreness in his hamstring during his warm-up and was left out as a precaution.
Great Britain's bronze in the 4x100m left "our hearts overwhelmed", according to Asha Philip, who raced with Ashleigh Nelson, Bianca Williams and Margaret Adeoye.
"That fight was for every single girl who missed out on that home Olympics," said Philip.
"That was devastating. We know girls we all grew up with who didn't make it and it burned us all."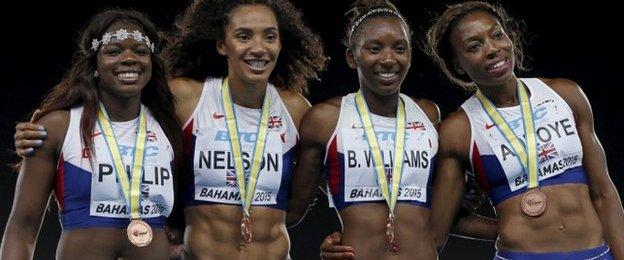 Britain's 4x100m men's team failed to qualify on Sunday after finishing ninth in the heats, although they will have other opportunities.
Each country whose relay team reached and completed an A final was awarded an Olympic berth in that same discipline in Brazil.
The GB 4x100m women secured their bronze ahead of Canada by 0.01 seconds after Adeoye dipped over the line for a time of 42.84 seconds, with Jamaica (42.14) and the United States the top two teams.
Britain's 4x400m women looked more comfortable in winning their bronze medals as they crossed the line 0.3 seconds faster than France in a time of 3 minutes 26.38 seconds, while the USA took gold ahead of Jamaica.
"Qualification really takes such a weight off our shoulders and now we can really focus on building this team for Rio next year," said 4x400m team member Eilidh Child, who ran with Anyika Onuora, Kelly Massey and Seren Bundy-Davies.
Britain's 4x400m men's team, comprising Conrad Williams, Rabah Yousif, Jack Green and George Caddick, finished in a time of 3:01.50 as USA won in 2:58.43, ahead of the Bahamas and Belgium in third.
Meanwhile, Bolt's absence appeared to deny us a chance to see the World and Olympic champion go head-to-head with in-form Justin Gatlin on the anchor leg.
But in any case, Gatlin's USA were disqualified after a botched changeover going into the third leg as the Jamaicans eased to victory.
It is understood that Bolt did not run as a precaution after he reportedly felt tightness in his hamstring when warming up.