Scottish qualifying for Gold Coast 2018 has begun - Rodger Harkins
Last updated on .From the section Athletics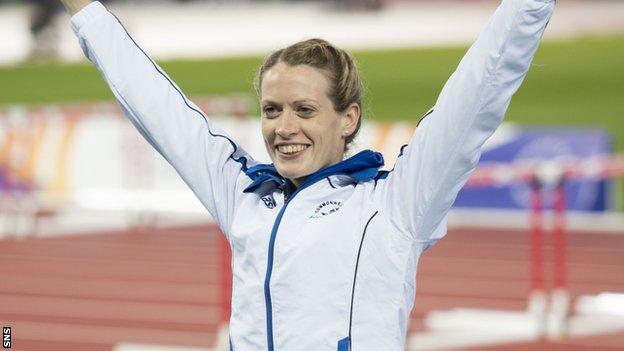 Scottish Athletics' director of coaching Rodger Harkins says Scottish athletes should start thinking about the next Commonwealth Games now.
Scotland compete against Loughborough University, Great Britain and Northern Ireland U20s, England, Wales and British Universities on 17 May.
"The Loughborough International is another opportunity for our athletes to represent Scotland," said Harkins.
"And, that makes it a weekend to look forward to for everyone."
The nature of the event means Scottish athletes can line up against Scotland in other vests, or compete as guests, but Harkins is pleased more than a dozen athletes who featured at the Commonwealth Games will be in the team, including medallists Eilidh Child and Lynsey Sharp.
And there are call-ups for the likes of Ben Greenwood, Alec Thomas, Katie Purves and Alisha Rees to add to Kelsey Stewart and Cameron Tindle, the teenagers who featured for Scotland at the Emirates in January in the Glasgow International.
Hampden stars Child and Sharp have roles for Scotland, too, although not in their main events, while the team also features the likes of Sarah Warnock, David Smith, Chris Bennett, Kirsty Yates and Kirsty Law.
Harkins said: "We've quite a large number of Team Scotland athletes from the Commonwealth Games included for this year and that is pleasing.
"There is a busy year ahead with the likes of the World Champs in Beijing or the Euro U23s as priorities coming up. So we have to remember this is an early-season event but it is still a good opportunity and good a level of competition.
"Effectively, the cycle for the next Commonwealth Games has begun and it is already now less than three years until Gold Coast. We keep stressing: athletes and coaches have to start the planning early towards that if they want to achieve their goals.
"At Loughborough, we will look to our more senior athletes who competed at Hampden last summer to play a leading role within the team. On the women's side, in particular, we've a number of athletes who came through the Commonwealth Games experience and will be looking to build on that.
"So in many ways it becomes a day where we look at Scottish performances by individuals as much as by the team itself."