Justin Gatlin says he was 'kicked out' by Beijing meeting organisers
Last updated on .From the section Athletics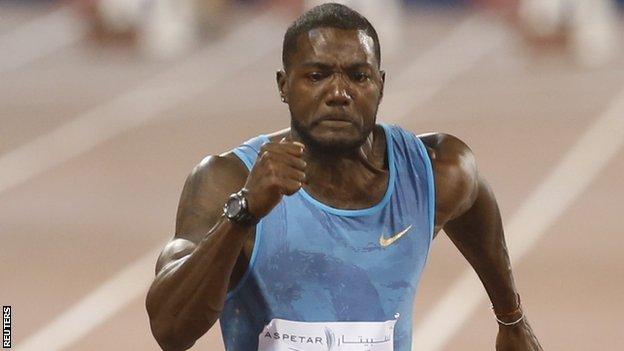 Justin Gatlin says he has been "kicked out" of the Beijing World Challenge by meeting organisers.
The 33-year-old, who has served two doping bans, was due to race in China on Wednesday after running his fastest ever 100m time of 9.74 seconds in Doha.
Gatlin was unsure about his fitness following a flight to Beijing but appeared ready to compete after coming through a training session on Monday.
"They didn't have any respect for me so they said 'you better leave'," he said.
"I was happy to stay. I was cramping a lot after the fastest my body has ever run."
The meeting organisers have yet to respond to the American's comments.
Asked whether the sudden departure may have been linked to his controversial reputation, the sprinter's manager Renaldo Nehemiah said: "No, it has nothing to do with that.
"No, this is because they think he is injured and they don't want him here if he's injured."
Gatlin's time of 9.74 from Friday's Doha Diamond League meeting is the fastest in the world so far this year and joint-sixth quickest 100m time in history.
"It's crazy. I have no idea what they were thinking. I think they thought I wasn't man enough and I might pull up in the race, or not finish it and then still ask for money," added Gatlin.
"But I'm not a man like that. I'm not the kind of guy to cheat people of their money or let the fans down ... that's not what I do."