Gotzis heptathlon: How will Jessica Ennis-Hill fare on her comeback?
Last updated on .From the section Athletics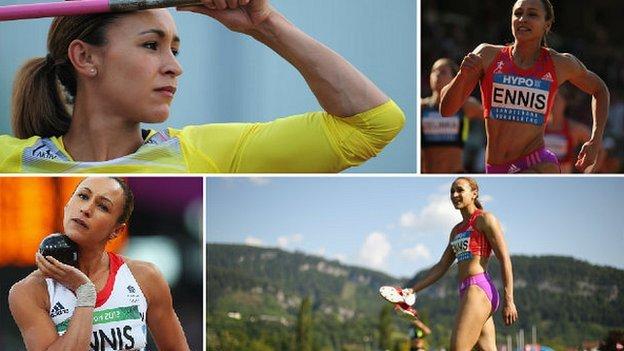 All eyes on Ennis-Hill - "There's no pressure"
Will she? Won't she? Until last week there was doubt over whether Ennis-Hill would compete in Gotzis because of an Achilles injury.
But she has declared herself fit and has been given the go-ahead - by her coach Toni Minichiello, a medical team and sports scientists - to throw herself back in at the deep end.
Since her Olympic triumph, one of Britain's most recognisable athletes has suffered with injuries and given birth to her son, Reggie, so her comeback is, understandably, being carefully managed.
Victory is not the target in Gotzis, but rather the 6,200 points needed to qualify for next year's Rio Olympics - and, more immediately, the 6,075 needed for August's World Championships in Beijing.
"It's a challenge," says Minichiello of the prospect of turning his athlete into a world beater again.
"There's nothing been written on power athletes coming back after pregnancy so I'm learning on the hoof. We're re-learning. Is there pressure? No, there's more time constraints."
What to expect? "I'll always be disappointed"
The Olympic champion's first competitive appearance for nearly two years came at the Great City Games in Manchester this month, blowing off the cobwebs with a 13.14sec run in the 100m hurdles.
More than half a second outside her personal best it may have been, but there was reason for optimism in a performance which would have earned her 1,103 points in the heptathlon.
A few weeks later, with her team umming and ahhing over whether she should compete in Gotzis, Ennis-Hill came through unscathed in the long jump and javelin at the Loughborough International meeting.
The Sheffield athlete finished third in the long jump, leaping 6.16m - some distance short of her 6.51m best - and threw 43.88m in the javelin, traditionally her weakest discipline, to finish sixth.
Was she happy with her performance? "I'm always going to be a bit disappointed because my standards are still where I left off, but for me to come and jump and get a good throw is not too bad," she said.
Who needs what for 2015 World Championships?
Britain can send up to three heptathletes to Beijing in August. To achieve automatic selection, they need a top-12 finish in Gotzis, to be one of the first two Britons there (only two are competing) and to have achieved the 6,075-point qualification standard within the qualifying period.
Katarina Johnson-Thompson
already has the qualification standard, and though not competing in Gotzis, will expect to be selected anyway.
Morgan Lake
also has the standard and will be an automatic pick if she finishes in the top 12 in Gotzis.
Jessica Ennis-Hill
needs to finish in the top 12 in Gotzis and score 6,075 points.
The rivals - "Thiam could beat everyone"
European indoor pentathlon champion Katarina Johnson-Thompson will not defend her title in Gotzis because a knee injury sustained in March has disrupted her training.
But those thinking Ennis-Hill can breathe a little more easily in her compatriot's absence should think again. There's Belgium's Nafissatou Thiam to contend with.
"I've got this thing about Thiam," says Johnson-Thompson, 22, who will return to action at July's Sainsbury's Anniversary Games.
"She's super-talented, a year younger than me and is incredible. One of these days she's going to beat everyone."
Some of Thiam's personal bests do make impressive reading: 1.97m in the high jump, 15.03m in the shot put and 51.90m in the javelin.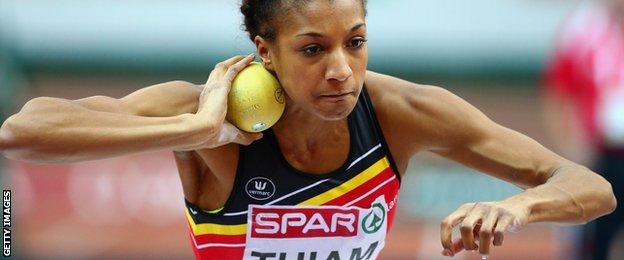 There are more - Schippers, Theisen-Eaton...
It won't all be about Ennis-Hill or Thiam because there are other athletes with world-class talents too - not least European double sprint champion Dafne Schippers.
The 22-year-old ran a Dutch record of 10.94 secs in the 100m to beat Britain's Dina Asher-Smith last weekend and clocked 22.03secs to win European 200m gold in Zurich last summer.
"God knows what Dafne will run in the 200m this weekend," says Johnson-Thompson. "She's going to have a tough decision to make after Gotzis, whether to stick with the heptathlon or concentrate on the sprints."
In addition to that trio, Canada's World Championship silver medallist and Commonwealth champion Brianne Theisen-Eaton, and two-time European champion Antoinette Nana Djimou of France will be there. Even without Johnson-Thompson, it's undoubtedly a high-class field.
Another Brit in town - 'Lake could be the best'
Yes, another athlete has hopped off Britain's staggering heptathlon production line. "The sky's the limit" for schoolgirl Morgan Lake, according to her father and coach Eldon.
In her first year competing with the seniors, the 18-year-old came ninth at the European Indoor Championships in Prague in March, finishing just eight points short of the European junior record and within 108 of the world junior record.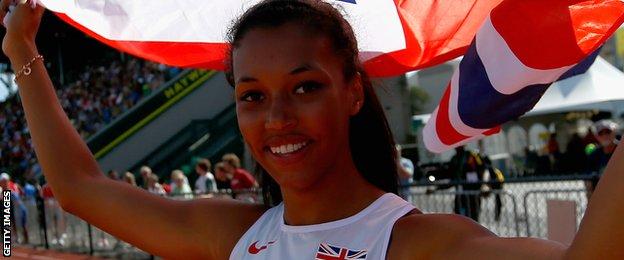 The Wellington College A-level student has achieved feats better than anything either Johnson-Thompson or Ennis-Hill achieved in their youth.
"She should be comparable with some of the best in the world in a few years' time," says her father.
But how will Lake cope in the spotlight? "There's a lot of attention on heptathlon but that's a good thing, it highlights the sport," says Eldon. "Morgan's never been shy of competing in front of people and it's not an issue for us."
Why is Gotzis special? Parties, tents, beer
For one weekend a year, this picturesque Austrian town near the Swiss border becomes the centre of the heptathlon universe and, for multi-eventers, no other major competition can compare to a two-day festival in Gotzis.
Half the town's population fit into the 5,000-capacity stadium, turning the green hills that surround the small arena into a joyous campsite with beer gardens and a party atmosphere.
"The place shuts down and the people there understand the event," explains Johnson-Thompson. "They cheer the athletes throughout the weekend and it's a lovely setting with mountains as a backdrop. It's the atmosphere that makes it so special."
Theisen-Eaton was not overly impressed when she first saw the venue, but quickly changed her mind.
"When I first arrived there in the week leading up to the event, I was a little underwhelmed at the six-lane track in the middle of a field in a tiny little town," the Canadian told the IAAF. "But the day or so before the meet it transformed into a different place.
"Tents were pitched from campers, four different beer gardens erected. Thousands of people surrounded the track on competition day, music is playing and everyone gets super involved."
Follow latest updates and reports on the Gotzis Hypo-Meeting on the BBC Sport website during Saturday, 30 May and Sunday, 31 May.