Usain Bolt wins 200m at Golden Spike meet in Ostrava
Last updated on .From the section Athletics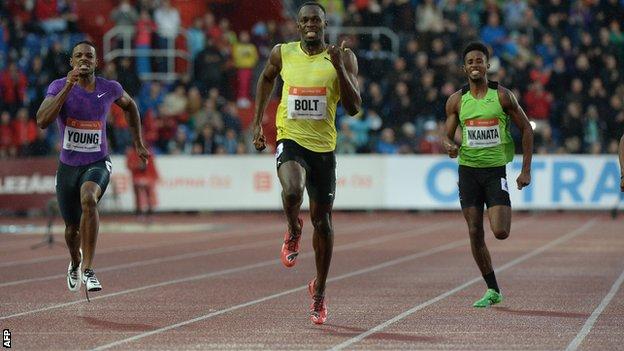 Usain Bolt was an easy winner in his first race of the year in Europe, but failed to break 20 seconds in the 200m at the Golden Spike meet in Ostrava.
In wet conditions, Jamaica's six-time Olympic gold medallist clocked 20.13 seconds - well outside his 19.19 world record - to beat American Isiah Young.
"You can't be satisfied if I don't break 20 seconds," said Bolt, 28, who is building up to the World Championships in Beijing in August.
Asafa Powell took the 100m in 10.04.
The 32-year-old former world record holder was also well off his best pace in the Czech Republic, having clocked 9.84 seconds at the Jamaica International Invitational in Kingston this month.
His compatriot Bolt improved on his season's best of 20.20 for the 200m, set in April in Jamaica, but conceded he was well off where he will need to be by summer.
"I just need to try to get myself into running shape," said Bolt, who won 100m, 200m and sprint relay gold at the 2013 World Championships in Moscow.
"I really wanted to [break 20 seconds] but the conditions didn't allow. And I'm coming back from injuries, so it's going to take time."
Britain's Richard Kilty was third in the 100m in 10.31, while James Ellington finished sixth in 10.45, before doubling up in the 200m, coming home fourth in 20.81