Jessica Ennis-Hill: Olympic gold medallist to assess World chances
Last updated on .From the section Athletics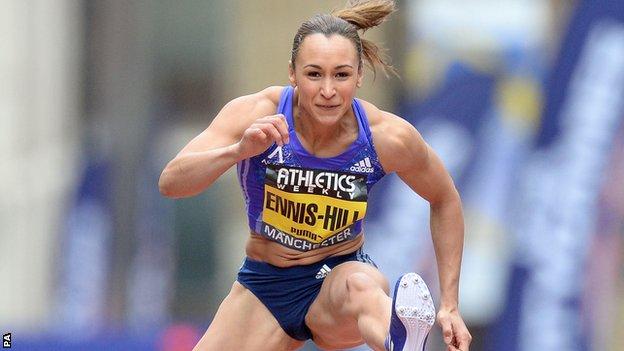 Jessica Ennis-Hill will use her comeback at this weekend's Hypo-Meeting in Austria to assess her chances of success at the World Championships.
Ennis-Hill said she would "see how it all unravels" in Gotzis.
"This weekend is going to give me a good indication of how I am physically and what kind of score I'm capable of doing," said the 29-year-old.
"It's exciting and nerve-wrecking. It's hard to know what to expect."
Injury and then motherhood have prevented Ennis-Hill from putting herself through the rigours of seven disciplines in two days since the London Games.
And the heptathlete, who gave birth to her first child Reggie last July, said she did not know how she would fare at the prestigious invitational meeting in Austria as she gauges whether she is on target for August's World Championships in Beijing.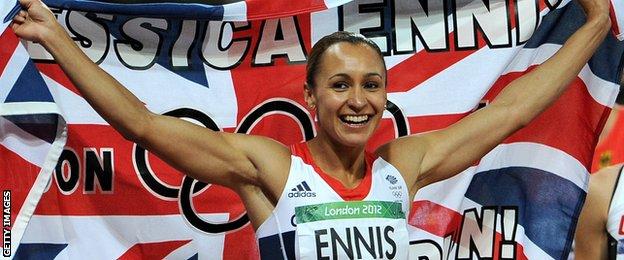 Ennis-Hill has repeatedly stated her aim is not victory in Gotzis this weekend but the 6,200 points she needs to qualify for the Olympics in Rio next year and, more immediately, the 6,075 needed to go to Beijing.
She added: "Training has been very different to previous years. Having a couple of years out of competition, having my son and coming back to this level and this standard of competition is quite difficult.
"I feel I'm ready, I'm here, but I'm not quite as ready as I have been in previous years. But that's not to say that I can't come out and compete well.
"It's going to be one of those where you have to get on with it and see how it all unravels - and whether me and my coach feel I can go away and work on the things I need to produce a good enough score to medal at the World Championships."
Ennis-Hill's heptathlon tale of the tape
August 2009:
Wins gold medal at World Championships in Berlin with a new personal best of 6,731 points
July 2010:
Wins gold in the European Championships in Barcelona with a new mark of 6,823 points
May 2012:
Wins the Hypo-Meeting in Gotzis with a new British record of 6,906 points
August 2012:
Wins Olympic gold in London with 6955 points
August 2013:
Misses World Championships in Moscow with an ankle injury.
During the next two days, she will come up against the best in the world in Canada's World Championship silver medallist and Commonwealth champion Brianne Theisen-Eaton, two-time European champion Antoinette Nana Djimou and European double sprint champion Dafne Schippers.
Promising Belgian Nafissatou Thiam, the European indoor pentathlon bronze medallist, and 18-year-old British athlete Morgan Lake are also taking part.
Up until last week, Ennis-Hill's participation in Austria was in doubt because of an Achilles injury, while she only returned to training in November following the birth of her son.
Ennis-Hill believes it will take a few more months for her to return to her best but said it was nice to be back in the sport unburdened by the pressure heaped on her when she was the golden girl of her home Olympics.
"There's perhaps a bit less pressure on me because I'm still coming back, finding my feet," she said.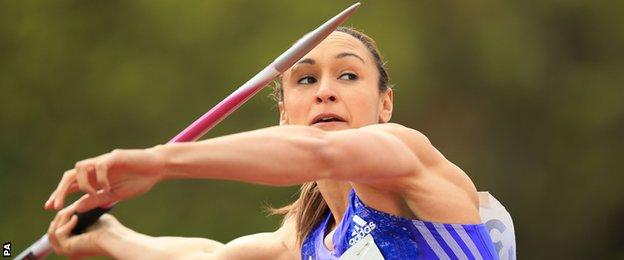 "But at the same time as an athlete you're always putting pressure on yourself and you want to do your best. You always want to be competitive and successful.
"I don't want to come back and not perform well but I want to be back at my best and that's going to take a few months. But this is my starting point."
Acknowledging that it was tough being away from her son for four days, Ennis-Hill also said she was the happiest she had ever been.
She added: "Life is fantastic. Coming back it's a huge challenge, but I love challenges.
"It can be hard to enjoy athletics and sport at top level but I want to embrace it. I'm training because I want to train, I want to do this and I want Reggie to be a part of my future successes."