Gotzis heptathlon: Jessica Ennis-Hill falls to eighth after javelin
By Aimee Lewis
BBC Sport in Gotzis, Austria
Last updated on .From the section Athletics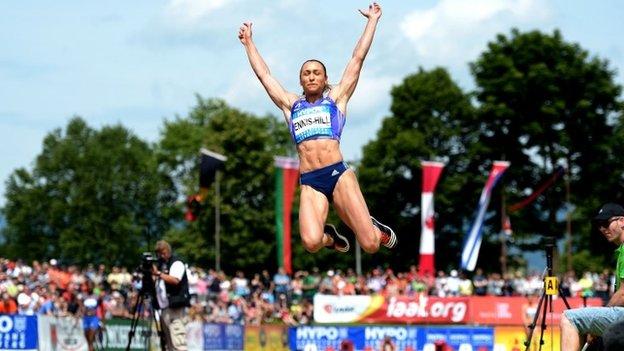 Jessica Ennis-Hill has fallen from fourth to eighth place after six events at the Hypo-Meeting in Gotzis.
The Olympic champion, 29, was third overall at the end of a promising first day - traditionally her strongest - with a score of 3,928 points.
On Sunday she leapt a respectable 6.16m in the long jump but threw a disappointing 42.60m in the javelin.
With the 800m remaining, she has 5,544 points, still on course for the 6,200 needed to qualify for the Rio Olympics.
Ennis-Hill is competing in her first heptathlon since winning gold at London 2012.
A top-12 finish and score of 6,075 points would also secure qualification for this summer's World Championships.
Canada's Commonwealth champion and world silver medallist Brianne Theisen-Eaton leads ahead of the final event, remarkably achieving three personal bests on her way to a 5,834 score.
Who needs what for 2015 World Championships?
Britain can send up to three heptathletes to Beijing in August. To achieve automatic selection, they need a top-12 finish in Gotzis, to be one of the first two Britons there (only two are competing) and to have achieved the 6,075-points qualification standard within the qualifying period.
Jessica Ennis-Hill needs to finish in the top 12 in Gotzis and score 6,075 points.
Katarina Johnson-Thompson already has the qualification standard, and though not competing in Gotzis, will expect to be selected anyway.
Morgan Lake also has the standard and will be an automatic pick if she finishes in the top 12 in Gotzis.
Follow latest updates and reports on the second day of the Gotzis Hypo-Meeting on the BBC Sport website on Sunday, 31 May.