Jessica Ennis-Hill finishes fourth in Gotzis heptathlon to qualify for Rio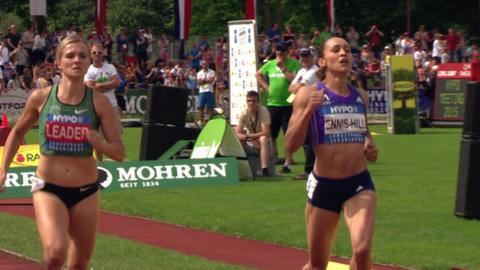 Jessica Ennis-Hill can start making plans to defend her Olympic title after achieving the qualifying standard for Rio 2016 at the Hypo-Meeting in Gotzis.
The Olympic champion, 29, finished fourth, with 320 points more than the 6,200 tally she needed for Rio.
It was an impressive two days from the Briton, in her first heptathlon since winning gold at London 2012.
Her fourth position and points total also secured qualification for this summer's World Championships.
Considering the length of her absence from the event, the life-changing impact of motherhood and the recent disruption caused by a troubling Achilles, Ennis-Hill's comeback performance in Gotzis was full of promise.
In the end she finished 11 points adrift of third place after concluding her comeback in stunning fashion, leading from the start in the 800m to pip Brianne Theisen-Eaton, who took overall victory, to the line in 2:09.21.
Her time over two laps was 1.4 seconds short of her personal best 2:07.81, but her decision to take the initiative at the very beginning of the race was an indication of her confidence.
The competition was won by an athlete in prime form as Canada's world silver medallist and Commonwealth champion Theisen-Eaton recorded three personal bests on her way to a national record and world leading 6,808 points.
Germany's Carolin Schafer (6,547 points) was second and Nadine Broersen (6,531) of the Netherlands was third, ahead of Ennis-Hill with 6,520.
The Briton's overall position was, admittedly, improved after Dafne Schippers, the European 100m and 200m champion, withdrew before the 800m because of injury. The Dutchwoman was on course to finish second after two personal bests, in the shot put and long jump.
But beating the world's best at the prestigious invitational event was never the target for Ennis-Hill. Instead, her aim was the points tally needed to qualify for next year's Olympics.
She soared over the total needed and will now have to decide whether to compete at the Worlds in Beijing this summer.
Prior to Gotzis, the Sheffield athlete said she would "see how it all unravels" before deciding whether to go to China. The Briton and her team will make their summer plans known after reflecting over the next few weeks.
After collecting 4,031 points in the first four events to lie fourth overall after the opening day, Ennis-Hill said she was "quite pleased" with how the competition was unfolding.
But while standing in a recycling bin, which she used as a makeshift ice bucket, on Saturday evening, she also admitted to being nervous ahead of the long jump on day two.
Her 6.16m leap in Sunday's opening discipline was the ninth best of the day and respectable, though some way short of her 6.54m personal best.
In the javelin, a discipline which had been going well in training, the Sheffield athlete threw 42.60m, less than the 43.88 she recorded in Loughborough earlier this month.
Elsewhere, it was a sad end for Morgan Lake as the British teenager failed to finish the 800m, stopping after about 600m.
The 18-year-old, who has six A-level exams remaining when she returns to England, endured a difficult two days, scoring 5,082 points to finish 23rd. She needed a top-12 spot to be an automatic pick for Beijing.