Laura Muir eyes World Championships after Commonwealth woes
By Jane Lewis
BBC Scotland
Last updated on .From the section Athletics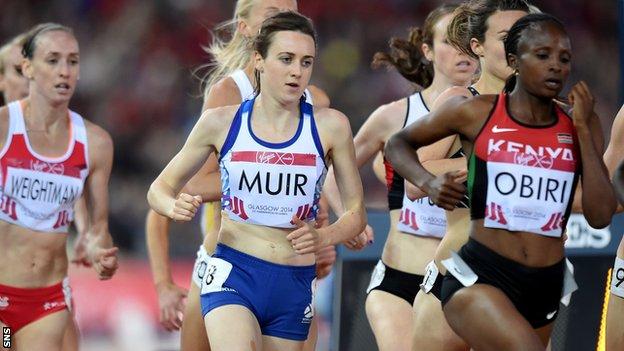 Athlete Laura Muir admits it took her longer than expected to get over the 1500m final at last summer's Commonwealth Games in Glasgow.
Muir, 22, who was in contention for a medal, was clipped with less than 200m to go and finished 11th.
"If it had been another race, I would have been upset about it and got over it pretty quickly," she said.
"It just meant so much being a home games with all my family and friends there, so it was really hard."
Muir subsequently pulled out of the 800m heats, which were staged the day after the 1500m final.
The Dundee Hawkhill Harrier told BBC Scotland that she has now "gone though that" and has trained hard through the winter.
She won the Scottish 3000m indoor title in Glasgow in January and was fourth in the 3000m final of the European Indoor Championships in Prague in March.
She now has August's World Championships in China in her sights.
"I feel in great shape," she said. "I've never competed in three rounds before in a World Championships, so I'm hoping to get to the final and perform well."
Muir is juggling her athletics career with studying for a veterinary degree at Glasgow University.
She is doing her third and fourth years part-time but over a longer period.
"I'm still in four days a week; it would be five if full time, so it's still quite full on and a lot of work," she explained.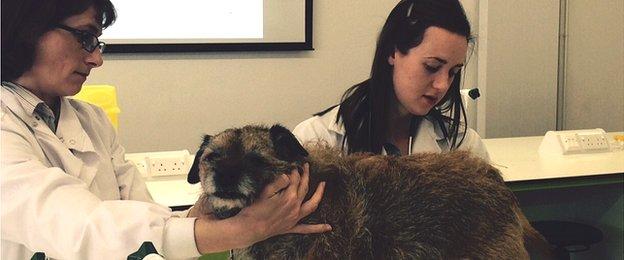 Balancing athletics and her studies strikes a note with her lecturer, Hayley Haining, who also trained to be a vet while competing as a marathon runner.
She represented Scotland at the Commonwealth Games in Melbourne in 2006 and 2014 in Glasgow and was a reserve for the British team for the 2008 Olympic Games.
"One of the things I've learned from people over the years that have been ahead of me is maybe things that haven't worked for me or I've thought I would have done differently," she said.
"So Laura and I have chatted about how I fitted things in."
Helping Muir with her aims is coach Andy Young, who believes planning is key to accommodate her hectic lifestyle.
"We've planned through to the summer of 2018," he said.
"And we had that meeting one or two months ago. It's just about making sure that everything can be accomplished.
"You've got to have a special level of dedication. Many years ago, I trained with Paula Radcliffe - and she was similar."