Alberto Salazar: Jo Pavey would leave Mo Farah's coach
Last updated on .From the section Athletics
European 10,000m champion Jo Pavey says she would ditch Alberto Salazar as her coach if she was Mo Farah.
A double Olympic champion, Farah is trained by Salazar, who is at the centre of doping allegations.
Salazar denies wrongdoing but Pavey says she would "run a mile" if she was in Farah's position.
"As an athlete, you don't want to associate yourself with people that have got accusations and allegations against them," said the Englishwoman.
"I'm not here to accuse anyone, but if there was anybody I was slightly associated with that I suddenly realised had these accusations against them - or any of my training partners - I'd run a mile."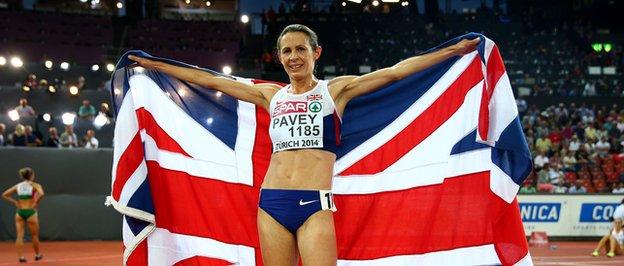 There is no suggestion that Farah, who is part of Salazar's training operation in the United States, has broken any rules.
The Olympic 5,000m and 10,000m gold medallist told the BBC: "I have not taken any banned substances and Alberto has never suggested that I take a banned substance.
"From my experience, Alberto and the Oregon Project have always strictly followed Wada rules and if there is ever a question seek guidance from Usada to ensure they are correctly interpreting Wada's rules."
Despite Farah's statement, British 800m runner Jenny Meadows said the 32-year-old should still "reassure us all".
"He is becoming a legend of the sport and has to think of his reputation now," the 2011 European champion told Radio 5 live.
Meanwhile, UK Athletics said it welcomed the investigations and "would encourage the BBC to share all of the findings with the relevant anti-doping authorities".
"UK Athletics operates an absolute zero tolerance policy towards the use of performance enhancing drugs and toward any and all doping practices within sport," the organisation added in a statement.
The World Anti-Doping Agency (Wada) says it may investigate Salazar over allegations he doped American runner Galen Rupp in 2002.
Rupp, who is also part of the Nike Oregon Project (NOP) and was 16 at the time of the alleged incident, denies any wrongdoing.
Olympic 10,000m silver medallist Rupp, now 29, said: "I have not taken any banned substances and Alberto has never suggested that I take a banned substance."
Wada boss David Howman said: "If the allegations are as serious as they have been reported then they need to be investigated beyond a national level."
American sportswear manufacturer Nike, which founded the NOP near its Portland headquarters in 2001, stressed that Salazar refutes the allegations.
"We take the allegations very seriously as Nike does not condone the use of performance enhancing drugs in any manner," the company said in a statement.
None of the NOP athletes has ever failed a drug test, but the BBC has heard claims about some of Salazar's methods, including the use of banned steroids and unethical practices.
The BBC is aware of at least seven athletes or staff associated with the NOP who say they have spoken to the US Anti-Doping Agency (Usada) about their concerns - Usada does not confirm or deny investigations.
Salazar, an American athletics legend who won the New York marathon three years in a row, said: "I have never, nor ever will, endorsed the use of banned substances with any of my athletes."