Island Games 2015: Jersey select athletes to complete Games squad
Last updated on .From the section Athletics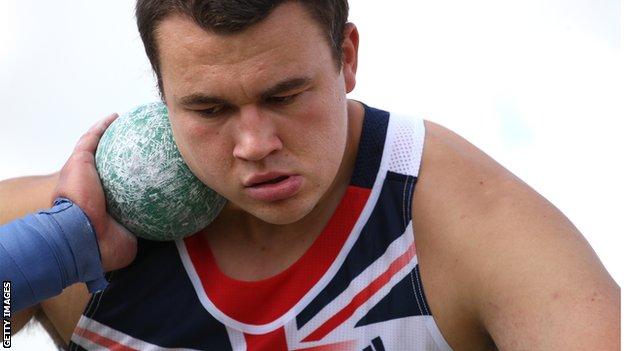 Jersey have named a 43-strong athletics team for the 2015 Island Games.
British discus champion Zane Duquemin, who is also the reigning national indoor shot put champion, will represent the island in both disciplines.
Professional Ironman racer Dan Halksworth will race in the 10,000m, having also been selected to compete in the triathlon.
A total of 23 men and 20 women have been named by the island, who are hosting the games from 27 June-3 July.
Athletics is the final sport to reveal its selection for Jersey's Island Games squad, bringing the host island's team up to a total of 266 participants.
Jersey athletics team for 2015 Island Games

Event
Women
Men
100m

Katrina Lindsay, Ogubemi Popo

Philip Williams, Bill Porter

200m

Katrina Lindsay, Katie Silva

Philip Williams

400m

Hazel le Cornu, Yasmin Lookess

Sam Dawkins

800m

Gemma Dawkins, Chloe Turmel

Elliott Dorey, Aaron Turmel

1500m

Chloe Turmel, Jessica Troy

Elliott Dorey, Sam Maher

5000m

-

Philip Maguire, Finlay Wright

10000m

-

Daniel Halksworth

Half Marathon

Andrea Banks, Jane Grace, Sylvia Thompson

Tony Banks, Bruno Francisco

100m/110m hurdles

Hazel le Cornu, Emily Cassidy

Peter Irving, Jason Fox

400m hurdles

Hazel le Cornu, Claire Lidster

Peter Irving, Stanley Livingston

3000m steeplechase

-

Daniel Romeril

High jump

Holly Widdowson, Elli Heyes

Simon Phelan, Jason Fox

Long jump

Roseanna Hill, Elli Heyes

Ross Jeffs, Samuel Stenhouse

Triple jump

Roseanna Hill, Kamela Monks

Ross Jeffs

Shot put

-

Zane Duquemin

Discus

Shadine Duquemin

Zane Duquemin, Paul Derrien

Hammer

-

Paul Derrien, Yuri Pereira

4x100m relay

Katrina Lindsay, Claire Lidster, Ogubemi Popo, Holly Widdowson, Helen Butler-Day, Katie Silva

Ross Jeffs, Philip Williams, Bill Porter, Sam Dawkins, Jonathan le Grange, Ben Silva

4x400m relay

Hazel Le Cornu, Gemma Dawkins, Yasmin Lookess, Gemma Gothard, Katie Silva, Helen Butler-Day

Sam Dawkins, Stanley Livingston, Peter Irving, Elliott Dorey, Aaron Turmel, Ben Silva