Alberto Salazar doping claims 'distressing' says Wada president
Last updated on .From the section Athletics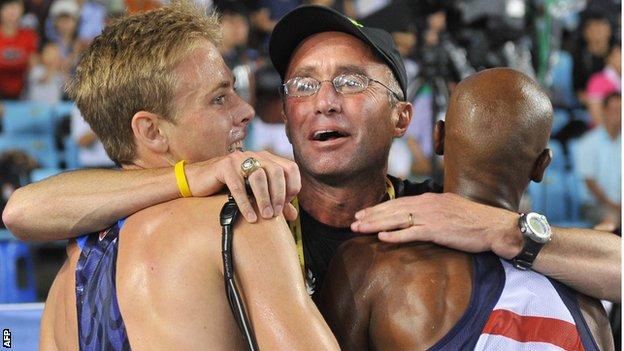 The president of the World Anti-Doping Agency (Wada) says doping allegations against top athletics coach Alberto Salazar are "distressing".
Sir Craig Reedie told BBC Sport that there "have been question marks raised" about Salazar's Nike Oregon Project.
Salazar and US 10,000m record holder Galen Rupp deny doping. There is no suggestion Farah has broken any rules.
The BBC investigation revealed this week that it knows of at least seven athletes or staff associated with the Nike Oregon Project (NOP) who say they have gone to the US Anti-Doping Agency (Usada) with their concerns, although Usada does not confirm or deny investigations.
None of the Nike Oregon Project (NOP) athletes has ever failed a drug test.
Asked for his feelings about claims American coach Salazar doped Rupp in 2002 when the athlete was 16 years old and about some of Salazar's alleged methods, including the use of banned steroids and unethical practices such as micro-dosing, Reedie answered: "Distressed. Any allegation of that nature is disappointing and probably needs to be investigated," he added. "There is a process for doing that and it probably relies on Usada."
Farah, the 2012 Olympic 5,000m and 10,000m gold medallist, has told the BBC: "I have not taken any banned substances and Alberto has never suggested that I take a banned substance."
But European 10,000m champion Jo Pavey says she would ditch Salazar if she were in Farah's position because of the "association".
Andy Vernon, 29, described as an "embarrassment" by Farah during a row on Twitter in February, added: "It's not good for Mo's reputation, that's for sure. But it's his training partner, and all the headlines, because of that, are about Mo.
"It's best not to be associated with that negativity. These kind of allegations are as negative as it gets in sport."
And US middle-distance runner Jenny Simpson, speaking after Thursday's Diamond League meeting in Rome, said: "I could never associate myself with someone who had these sorts of allegations."
However, Diane Modahl, the British former Commonwealth gold medallist who was wrongly accused of doping, told BBC Radio 5 live: "Proof is essential when it comes to protecting innocent athletes.
"We cannot convict on gossip, on hearsay or rumour. We have to be very, very careful in terms of what we say and what we are actually accusing people of."
Meanwhile, the UK Anti-Doping authority's head of science and medicine, Nick Wojek, says retrospective testing in the future will eventually uncover current micro-dosing cheats.
"We have the ability to store samples for up to 10 years so if new techniques become available to test for prohibited substances, we can sanction athletes we were not able to catch in real time," said Wojek.