Mo Farah 'wants answers' over Alberto Salazar doping claims
Last updated on .From the section Athletics
Mo Farah is angry his name is "being dragged through the mud" and "wants answers" following allegations linking his coach Alberto Salazar with doping.
The British Olympic and world champion says he will "be the first to leave" Salazar if the claims, made in a BBC investigation, are proven true.
UK Athletics has "no concerns" over the pair continuing to work together.
There is no suggestion that Farah has broken any rules and Salazar vehemently denies the claims.
An investigation by BBC's Panorama programme Catch me if you can alleged that Salazar violated anti-doping rules and doped United States 10,000m record holder Galen Rupp in 2002 when the athlete was 16 years old.
Rupp, who would later become Farah's training partner, won Olympic 10,000m silver behind the Briton at London 2012. Rupp also denies the doping claims.
Salazar, Rupp and Farah's agent, Ricky Simms, were made aware of the BBC's allegations one month ago. Farah and his agent were together last weekend when he won the 10,000m in Eugene, Oregon.
Farah said he phoned Salazar on Friday demanding answers and the American told him: "Mo, I can prove this to you - it's just allegations - I'll show you some evidence".
However, the 32-year-old, who said he would not leave his coach because he has "not seen any clear evidence (of doping)", wants further assurances "as soon as possible".
"I'm really angry at the situation," said Farah. "It's not right or fair. I haven't done anything but my name is getting dragged through the mud.
"I need to know what is going on. Are they true or not? If they turn out to be true I will be the first person to leave him."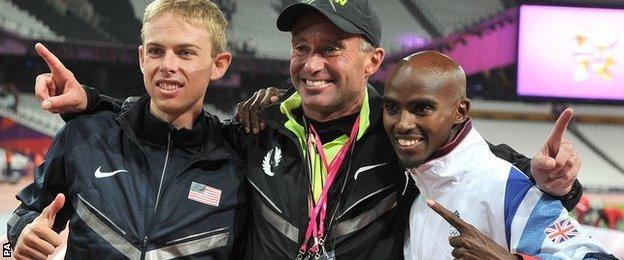 Farah, who won 5,000m and 10,000m gold at the London Olympics in 2012, admitted the controversy had "affected" him before he races in Birmingham on Sunday.
"My reputation is getting ruined. You guys are killing me," he told a news conference.
"I'm a clean athlete. I'm against drugs 100% and believe anyone caught should be banned for life."
Farah had earlier told the BBC that he had "not taken any banned substances and Alberto has never suggested that I take a banned substance".
UK Athletics said it has "no concerns over the conduct and coaching methods of Salazar in relation to Farah or in his role as an endurance consultant" with the organisation.
However, its board will undertake a "focused review of the performance management system surrounding Farah and the endurance programme" in light of the allegations.
The review will begin immediately, and has been "welcomed and supported" by Farah and performance director Neil Black.
UK Athletics chief executive Niels de Vos echoed Farah's sentiments that the organisation would not continue its association with Salazar if they were not satisfied with his answers.
De Vos also explained that "Farah's medical and nutritional programme is directed by British Athletics".
The athlete's physiological testing is also overseen by the same organisation.
Black added: "To make it clear, Mo is saying all of his records are available to the relevant authorities - there's nothing Mo feels he has to hide."