Mo Farah could be 'dogged' by Alberto Salazar doping claims
Last updated on .From the section Athletics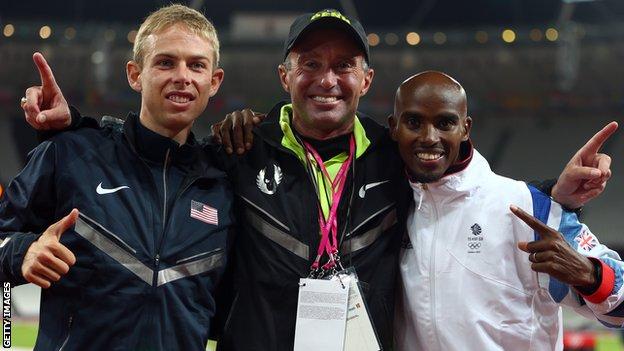 The doping allegations aimed at Alberto Salazar could "dog" Mo Farah for the "rest of his career", UK Athletics chairman Ed Warner has told the BBC.
American Salazar, who coaches Farah in the United States, denies allegations made in a BBC investigation that he has used illegal doping practices.
There is no suggestion that Farah himself has been involved in doping.
But Warner told BBC Radio 5 live that Britain's double Olympic champion has "found himself in a no-win situation".
He added: "This is going to be dogging him, reputationally, for some time, if not for the rest of his career."
Warner added that his personal advice to Farah, 32, would be to "suspend" his relationship with Salazar.
However, he pointed out that his view was not the official stance of UK Athletics.
A BBC Panorama investigation alleged Salazar, who became Farah's coach in 2011, violated anti-doping rules and doped United States 10,000m record holder Galen Rupp in 2002 when the athlete was 16 years old.
Farah withdrew from Sunday's Diamond League meeting in Birmingham, saying he was "emotionally and physically drained" by developments.
He has now flown back to the US to "seek answers" from Salazar and says if the allegations are true he would end their relationship.
"I need to know what is going on," said Farah. "If they turn out to be true I will be the first person to leave him."
UKA has started a review of the "performance management system" around Farah, which Warner says will take "weeks rather than months" to complete.
Warner added: "We can do nothing about the Salazar and Rupp allegations.
"What we can look at is data around our own athletes. We have all the data and we need to make sure there is nothing we haven't seen or are unaware of."
British Olympic Association chairman Lord Coe has defended the reputation of Salazar, claiming he is a "first-class coach".
He added: "I've known Alberto for 35 years. He's a good friend of mine.
"Alberto will sit down with anybody to talk about his training methods and I know the way he operates.
"I haven't spoken to him, but I think he'll be pretty robust in his defence. Mo will have to make a judgement about that bond of trust."
Former Olympic champion Christine Ohuruogu told the BBC she is "shocked by the allegations" against Salazar.
"It is not for us to sit and judge, it is for the authorities," she said of the claims against the coach.
"I love Mo, I have always supported Mo for a long time and I will say that he is a hugely gifted and honest athlete."
The US Anti-Doping Agency has not confirmed whether it is investigating the claims against Salazar.
But World Anti-Doping Agency president Sir Craig Reedie says there should be an investigation.
Salazar, Rupp and Farah's agent, Ricky Simms, were made aware of the BBC's allegations a month ago.