Kerry O'Flaherty picked for Ireland's European Team challenge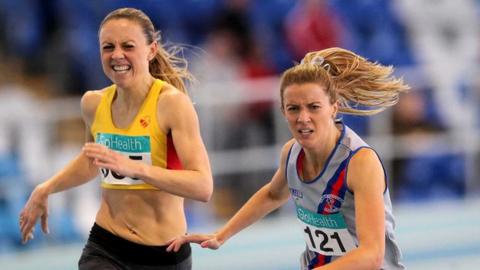 Kerry O'Flaherty's impressive new 1500m personal best has booked her the metric mile place in the Ireland women's team for this weekend's European Team Championship meeting in Crete.
Newcastle woman O'Flaherty clocked 4:12.79 in Leixlip on Saturday as she cut 1.38 seconds off her previous best.
Several other Northern Ireland athletes are named in the team.
These include hurdler Ben Reynolds, Adam McMullen (long jump), Amy Foster (100m) and Christine McMahon (400m H).
Reynolds is back to fitness this season after an injury-affected 2014 and clocked a wind-assisted 13.77 seconds at the recent Northern Ireland Championships.
With conditions likely to be perfect in Crete, the North Down man will be hoping to get closer to his Northern Ireland record of 13.49 set two seasons ago.
South Derry man McMullen represented Ireland at the European Indoors Championships in March after improving his personal best to 7.80m.
McMullen, 25, jumped 7.77m in Loughborough a couple of weeks ago and this weekend's event will also offer an ideal opportunity to improve his lifetime's best.
Foster will compete in her specialist 100m after an 11.41 clocking for the distance in Florida last month, which was only .01 outside the Irish record she jointly holds with Ailis McSweeney.
McMahon clocked 59.52 to take fourth in the 400m hurdles in Leixlip and the Ballymena & Antrim athlete will be looking to get closer to her personal best of 56.97 set last season.
Another of Northern Ireland's Commonwealth Games representatives from last year, Finn Valley's Dempsey McGuigan, will also compete in Greece in an Irish team that will be led by Letterkenny man and European outdoor and indoor medallist Mark English.
The medical student clocked a somewhat disappointing 1:46.12 to finish seventh in the 800m at Saturday's Diamond League meeting in New York.
Thomas Barr will also be expected to land big points for Ireland after he improved his national 400m hurdles record to 48.65 in Rome earlier this month.
Carlow youngster Marcus Lawler will run both sprints in Crete after improving his 200m personal best to an impressive 20.74 earlier this month.
The Irish will be competing in the second-tier First League competition and their first priority will be to ensure that they are not one of the two relegated countries.
Ireland comfortably avoided the drop in Estonia last year when wins from English, Brian Gregan, Barr and Paul Robinson helped them finish seventh overall in the 12-nation competition.
Other countries competing in Heraklion are Belgium, the Czech Republic, Estonia, Latvia, Lithuania, the Netherlands, Portugal, Romania, Switzerland, Turkey and the hosts.
Ireland team
Men: 100m and 200m M Lawler; 400m B Gregan; 800m M English; 1500m E Everard; 3000m J Travers; 5000m K Batt; 3000m SC J Coghlan; 110H B Reynolds; 400H T Barr; High Jump B Pender; Long Jump A McMullen; Triple Jump D Finnegan; Pole Vault I Rogers; Shot Putt S Breathnach, Discus C Quirke; Hammer D McGuigan, Javelin R Gunning; 4x100m relay Lawlier, J Browning, K Pike, E Madden, Kieran Elliott; 4x400m relay Gregan, R Morrissey, C Lynch, English, Barr
Women: 100m A Foster; 200m K Proper; 400m S Denny; 800m C Everard; 1500m K O'Flaherty; 3000m S Treacy; 5000m M McCambridge; 3000m SC M Finn; 100H S Lavin; 400H C McMahon; High Jump M Tice; Long Jump S McCarthy; Triple Jump S Buggy; Pole Vault T Pena; Shot Putt and Discus C Fitzgerald; Hammer E O'Hara; Javelin A Fitzgibbon; 4x100m Foster, Lavin, Healy, C McManus, S Creanor; 4x400m Denny, Everard, C McCallion, McMahon, Drumgoole