Mo Farah: Asha Philip defends team-mate over missed tests
Last updated on .From the section Athletics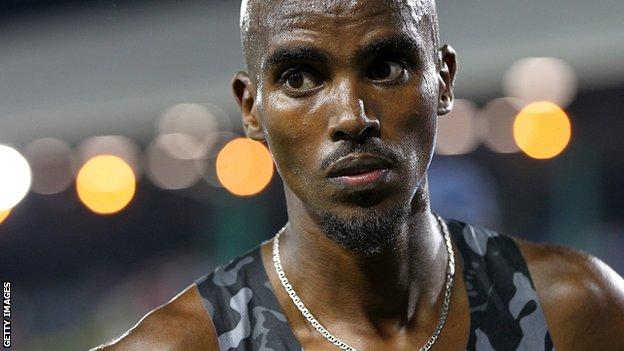 British sprinter Asha Philip says the "depressing" attention on team-mate and double Olympic champion Mo Farah has heaped negativity on the sport.
In response to revelations he had missed two doping tests prior to London 2012, Farah, 32, stated he had never taken performance enhancing drugs.
"It's depressing people would rather talk negatively than positively about our sport," Philip, 24, told BBC Sport.
Salazar has told Britain's Farah the claims revealed in a BBC investigation were false and said he would soon be providing evidence to disprove them.
The documentary made no suggestion that the reigning 5,000m and 10,000m world and Olympic champion had been involved in doping.
In describing the last two weeks as the toughest of his life, Farah said his missed tests, in 2010 and 2011, were the result of "simple mistakes".
And Philip, the third quickest British female over 100m, said the media reaction to Farah's missed tests had been unfair.
Analysis: Dan Roan, BBC sports editor
"Anti-doping regulations state athletes must give details of where they will be for one hour every day. But inevitably, on occasions, they're not at home when the testers come calling.
"We know that in 2011, around the time this story relates to, nine UK athletes missed two tests. But that number can change. In 2014 it was only one, so it's not common but it's not unheard of either. But the ramifications of missing a third test can be very serious."
"It's frustrating because Mo isn't the only athlete this has happened to," said the two-time British champion. "It's human error. Drug testing is a very difficult thing we have to deal with, it's stressful.
"People talk badly about our sport and that happens to be more interesting than someone running a sub-10 or sub-11 second 100m."
Philip is representing Britain in the 100m at the European Team Championships and said the scrutiny on Farah would "go over everyone's head" in Russia this weekend.
After opening her season with a personal best 11.10 100m run last month, Philip believes she can break the 11-second barrier this season.
The Loughborough-based athlete said recovering from a career-threatening injury - she ruptured and tore almost every part of her right knee while competing at the Trampoline World Championships in 2007 - has made her believe anything is possible.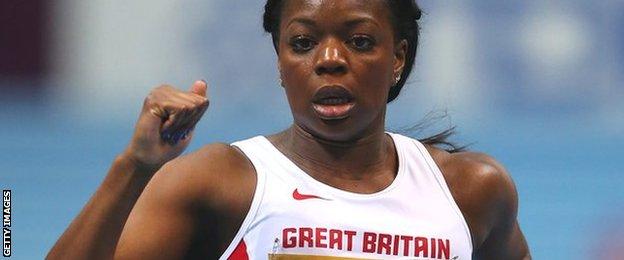 "My aim is going to be 10.90. It's doable, it's about being in the right place at the right time," added Philip, the first British woman to win a global 100m title when she secured gold at the World Youth Championships eight years ago.
"I've come this far. If I can run 11.10 in my first race of the season, surely I can run 10.90 by the end of the season."
It is perhaps a question of which British female sprinter will achieve that historic feat first, with 19-year-old Dina Asher-Smith setting the British 100m record of 11.02 in the same race that Philip clocked her personal best.
Philip and Asher-Smith are among a group of high-class young female British sprinters, which also features Jodie Williams, the 200m Commonwealth Games silver medallist, Bianca Williams, a Commonwealth 200m bronze medallist, and European 100m bronze medallist Ashleigh Nelson.
"It's nice," she said of being part of a promising wave of female sprinters. "We've always been shoved in the background and never been up there with the boys.
"We're all wanting to succeed, do well and run sub-11 seconds and, at the moment, it's on the cards for a lot of us to do it and I really hope we do because that would mean more Diamond League competitions. It's great for our sport and it's great for us women."
How the European Team Championships work
Winners of individual events and relays score 12 points, with second place getting 11 points, continuing down to one point. A nation's score is the total combined points of its men and women.
Philip and Asher-Smith are competing in the 12-nation event in Cheboksary this weekend and the latter is expecting a top-three finish from her team.
"We're fighters," she said. "I don't think anyone likes to lose to certain countries - though I'm not going to name any of those countries.
"We've got a few big guns here who can get us points. I'm hoping we perform well and at least get a podium finish. I don't see us getting anything below third."
Watch the European Team Championships on BBC Two, 13:00-17:30 BST, on Saturday, and BBC Two, 12:30-14:05 and Red Button, 14:05-17:15, on Sunday